#22
Isuzu D-Max X
By Junior Gaya
The flagship X-Terrain is the top-spec variant in Isuzu's wildly successful D-Max pickup range. As part of a refresh for 2022, this pickup has had a few updates from the 3rd Generation model that debuted in Thailand in 2019. While hardly amounting to wholesale changes, it justifies us taking another look at this double-cab. Do note that Isuzu in East Africa are yet to confirm what will be available for the region.
The D-Max is a reliable workhorse that offers buyers plenty of choice and value. This latest version features a substantially improved interior and driving dynamics while adding class-leading levels of safety equipment.
Compared with the previous model – the second-generation D-Max, this is a significant step-change in all-round usability, achieved without compromising the core attributes that make it such a successful working horse in Africa and market leader in East and Central Africa.
The new Isuzu D-Max X is capable of towing 3.5-tonnes – 3,500kg, and every version easily hauls more than 1.0 tonne – 1,000kg, in payload, from its higher-spec versions and saloon car luxury, with the family travelling with you in greater comfort.
The X-Terrain is Isuzu's answer to the Ford Ranger Wildtrak, in other words a load-lugger with all the fruit and some styling add-ons, designed for the lifestyle crowd rather than those who want a no-frills workhorse.
Exterior
A closer look at the exterior to lure potential customers in, include 18-inch dark grey metallic alloy wheels encased in 265/60R18 highway tyres, automatic wipers, heated door mirrors, remote engine start, proximity keyless entry, walk-away locking, automatic Bi-LED headlights, auto-levelling and automatic high beam, LED daytime running lights, LED fog lights, LED combination tail lights, under-rail tub liner, tow bar receiver, matte black roller tonneau cover, aero sports bar/sailplane, front and rear underbody spoilers and front and rear parking sensors.
Interior
When one gets into the D-Max cabin, they are ushered in with leather-accented seats, auto-dimming rear-view mirror, vanity mirror lights, 9.0-inch touchscreen centre console display, digital radio, satellite-navigation, wireless Apple CarPlay, wired Android Auto, eight speakers – roof included, voice recognition via phone and dual-zone climate control.
The D-Max has fantastically supportive front seats with ample bolstering – as well as heating, power adjustable driver's seat with lumbar support.
The D-Max is brimming with clever storage areas, which is something you really come to appreciate. There are cupholder drawers in the dash next to the outer air vents, a lidded console atop the dash, two stacked gloveboxes, 1.5-litre bottle-friendly door bins, central cupholders – sans teeth, a phone area under the fascia, and a sunglasses holder in the roof.
The 9.0-inch centre touchscreen has a landscape orientation and helpful shortcut buttons running below to head straight to the home screen or the embedded navigation.
The series of rocker switches to control the climate control are all highly intuitive and fool-proof. The D-Max has one of the better back seats in the double-cab pickup market, with headroom and legroom for a 6-foot 1 frame behind the driving position, wearing boots.
Safety
When it comes to safety, Isuzu is not messing around. Dual cameras mounted near the rear-view mirror provide information to power the active safety systems.
All variants come standard with the following safety features: Autonomous Emergency Braking (AEB) with junction assist, forward collision warning, blind-spot monitoring, driver attention monitoring, lane departure warning, lane-keep assist with centring, rear cross-traffic alert, traffic sign recognition, automatic high-beam, reversing camera, wrong-pedal acceleration warning and adaptive cruise control.
Additionally, eight airbags are standard, including a central airbag designed to mitigate the passenger and driver's arms and heads crashing into each other in a serious side-impact crash.
Drive
The electric-assisted power steering is feather-light at urban speeds, which makes the big beast feel less unwieldy. The only gripe is the active lane-keeping aid, which tends to tug on the wheel a little more than many customers might like, and only picks up road lines some of the time. Hence why that new shortcut 'off' switch is so welcome especially on Kenyan roads.
The suspension comprises double wishbones with coils at the front and rear leaf suspension. If you regularly carry heavy loads, then opt for the D-Max SX and LS-M with bouncier but heavier-duty rear leaf springs. The overall ride quality is really quite good, with supple bump absorption and decent body control at the rear even when unladen and barrelling over corrugations.
In off-roading terms, the D-Max defaults to 2H (rear-wheel drive), with high-range 4×4 (4H) for unsealed surfaces and low-range (4L) with a switchable rear locking diff to stop an airborne wheel just spinning aimlessly. Some pickups are coming with full-time on-demand AWD on the road with low-range for off-roading these days, but the D-Max relies on its electronic aids on wet tarmac instead.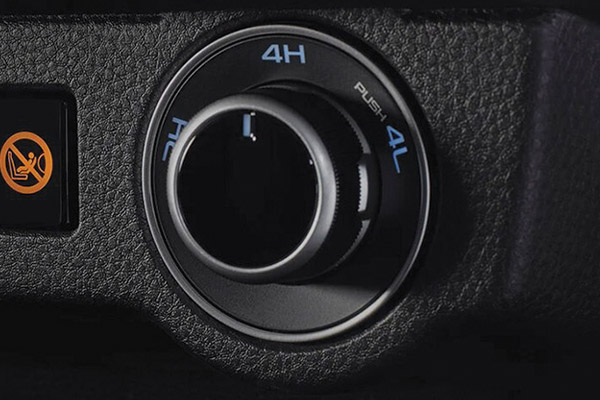 In terms of engine braking and traction, the D-Max walks over most mid-level trails and is every bit as talented as most. That said, you'll need to switch out the highway tyres, and you might expect those side steps to take some damage. Ditto the side flares.
The tailgate isn't counterbalanced like a Ranger's, so it's heftier to lift, but the tub itself has an excellent plastic bed liner fitted as standard. If one actually needs the pickup to carry big things, the X-Terrain probably isn't the best choice, since the – rather fiddly latch, sliding solid tonneau's stowage area robs you of space, and the plasticky sailplane and cosmetic tub toppers look pretty easy to scuff. This D-Max is more of an urban fashion statement than a load-lugging brute.
However, having a lockable sliding hard cover is godsend for someone carrying valuable power tools or what have you. It's horses for courses.
Were it me buying a D-Max, I'd go for a lower grade model and allocate my savings to new tyres, a steel front bar, rock rails on the side, and some additional underbody armour. But buyers looking at the X-Terrain probably know what they're getting.
Verdict
Those who want a 'lifestyle' pickup should look at this D-Max grade, but those who want to head into the bush or worksite might find the cosmetic add-ons don't cut the mustard. Those buyers should kick the tyres on the new D-Max LS-U+ grade instead.
The D-Max remains one of the best workhorses in its class, and deserves its popularity across the East African market, even if inevitable price hikes will strike me as cheeky at best.
Visit Isuzu East Africa showrooms and the regional wide distributors and dealers for exacting information, option availability, time frame and pricing.