#4
KARIUKI NGARI
MD & CEO, STANDARD CHARTERED BANK
Kariuki Ngari, a proud village boy hailing from the majestic slopes of Mt Kenya, carries within him the essence of an extraordinary leader. As Managing Director (MD) and Chief Executive Officer (CEO) of Kenya's esteemed first foreign financial institution, Standard Chartered Bank (SCB), he has reached the status of a true global citizen.
Raised amidst a brood of seven sisters, Kariuki was the lone male, born to a teacher and a nurturing homemaker. His father, a beacon of influence, imparted upon him a profound sense of humility, embodying the values of unwavering faith and selfless service. These virtues became the cornerstone of their family, shaping Kariuki's character.
With utmost gratitude, Kariuki acknowledges his upbringing as the catalyst for instilling in him the significance of equity and equality. Responsibilities were evenly distributed among all family members, underscoring the intrinsic worth of each individual.
Leaving behind the peaceful village life, he embarked upon his high school journey at Nairobi School, locally known as 'Patch'. It was during this transformative period that he honed vital qualities such as discipline, industriousness, and an unwavering sense of purpose.
Subsequently, Kariuki embarked on his academic pursuit at the illustrious University of Nairobi (UoN), where he delved into the realms of Economics and Sociology.
In his early days, Kariuki harboured a lofty aspiration: to don the uniform of a marching band officer. He fondly recalls that as a young boy, his father would whisk them away to the vibrant Nairobi Show, an annual spectacle that left an indelible mark on his impressionable mind. Kariuki remembers that amidst the grandeur of the night show, the sight of marching band policemen stood out in a mesmerising way, adding that the sheer awe they commanded ignited a fire within him, sparking dreams of joining their esteemed ranks.
Alas, as is often the case with childhood dreams, the passage of time gently nudged this particular aspiration into the realm of forgotten possibilities. During his university years, Kariuki's heart gravitated towards a different calling – a world brimming with the excitement of Finance and Banking where he found a sense of purpose that would soon guide his path forward.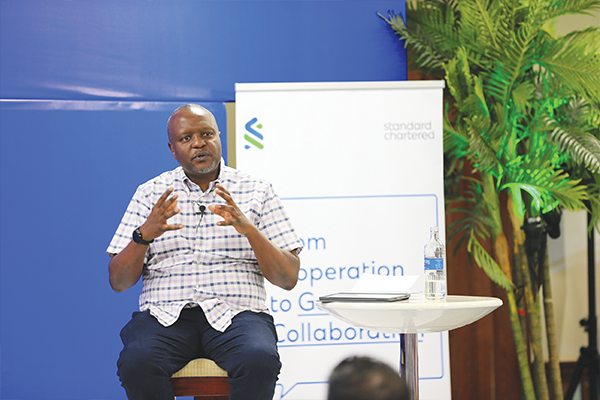 Kariuki began his banking career in a local bank, then joined SCB for seven years before transitioning to Barclays Bank of Kenya (now Absa Bank Kenya) in 2004. He eventually became Retail Director, and returned home to SCB in 2009 as Head of Consumer Banking, overseeing operations in Kenya and East Africa. Kariuki progressed to become Retail Head for Africa and later Global Head of Retail Distribution in Singapore, playing a crucial role in shaping the bank's global distribution network strategy. In 2019, he was appointed MD and CEO of SCB Kenya.
Apart from his professional responsibilities, Kariuki is an avid reader and runner. In his leisurely moments, he enjoys immersing himself in captivating books. Towards his passion for athletics, Kariuki established the SC Running Club in 2020 to promote health and wellbeing among his colleagues and their families. He also plays a key role in the success of the Standard Chartered Nairobi Marathon, which has become Kenya's largest single-day sporting event since 2003, and has helped launch the careers of many renowned Kenyan marathoners.
A man passionate about his community, Kariuki personally supports aspiring runners for local and international marathons. He is also involved in making the marathon the most sustainable event in Kenya, with recycling efforts, reducing single-use plastics, and a tree-planting initiative that aims to distribute over 100,000 tree seedlings.
The driving force behind Kariuki's endeavours stems from a profound desire to create positive change, remain steadfast in his purpose, and extend a helping hand to others. Leading a colossal organisation that thousands rely on is an extraordinary privilege for him, especially considering his humble beginnings.
He emphasises the importance of leveraging money and financial services to empower communities and businesses, contributing to societal and national development. His strategic prowess and commitment to excellence have resulted in significant growth, strengthened market position, and enhanced customer experiences at SCB Kenya, solidifying his place as a true industry leader and catalyst for change.
SCB has a long history in East Africa, generating well over USD 400 million in revenue and employing over 1,600 individuals in the region. It has achieved remarkable milestones in the financial market. These include: being the first bank in Kenya to receive the prestigious ISO 9002 certification for technology systems; introducing the first Automated Banking Centre with state-of-the-art ATMs, revolutionising banking in Kenya and enabling 24-hour accessibility; pioneering unsecured Personal Loans; and introducing Priority Banking facilities tailored for affluent customers, offering exclusive privileges and personalised attention.