#5
PETER NDEGWA
MD & CEO, SAFARICOM PLC
Born in Nyeri, Kenya in 1969, Peter Ndegwa's rise as Managing Director (MD) and Chief Executive Officer (CEO) of Safaricom PLC is rooted in a remarkable story of knowledge, growth, and the profound impact of his global experience.
Peter attributes his leadership style to certain figures in his life who played pivotal roles during his formative years. His parents' unwavering support and guidance instilled in him a strong sense of purpose and determination, significantly contributing to his character development and values. Further, he attended the esteemed Starehe Boys' Centre and School. Here, he encountered influential figures like the late founder of the school, Dr Geoffrey Griffin, whose positive influence enriched his path of learning and personal development.
Ndegwa's thirst for higher education led him to the University of Nairobi (UoN), where he pursued Economics, emerging with a Bachelor of Arts (BA) degree. He then went on to become a Chartered Public Accountant registered with the Institute of Chartered Public Accountants of Kenya (ICPAK).
Peter embarked on his professional journey at PricewaterhouseCoopers (PwC), one of the esteemed Big 4 accounting firms, as an Audit Manager. Fuelled by ambition, he seized the opportunity to relocate to London, United Kingdom (UK) through the firm's talent development program. Simultaneously, Peter pursued a Master of Business Administration (MBA) degree in Finance and Strategy at the prestigious London School of Business.
With the successful completion of his MBA, Ndegwa's horizons expanded, enabling him to assume pivotal positions in corporate advisory and project management within renowned European and American banks and insurance companies, as Associate Director and Senior Manager.
After a decade with PwC, Peter joined East African Breweries (EABL), as Strategy Director, in Nairobi. He played a key role in shaping the company's five-year strategy, successfully executing important business development initiatives, and by the time his tenure was up, he was Finance Director and Chief Financial Officer (CFO) of the Group.
Ndegwa subsequently took on an eight-year journey as CEO of Diageo subsidiaries Guinness Ghana Breweries PLC, and Guinness Nigeria PLC. His steadfast dedication to investing in people, introducing new brands, and enhancing operational efficiency resulted in substantial growth for both businesses.
Determined to once more enrich his worldview on a global scale, Peter assumed the role of Diageo MD of Continental Europe. In this capacity, he had the responsibility of overseeing business operations in 50 countries across Western and Eastern Europe, Russia, the Middle East, and North Africa. Notably, Ndegwa's appointment in July 2018 marked a significant milestone as he became the first African to lead a major business for Diageo outside of Africa.
With these formative experiences serving as a bedrock, Peter developed a deep understanding of the transformative power of education, values, and mentorship: a most suitable candidate, and in fact the first Kenyan, to take over the reigns at the country's largest telco, Safaricom.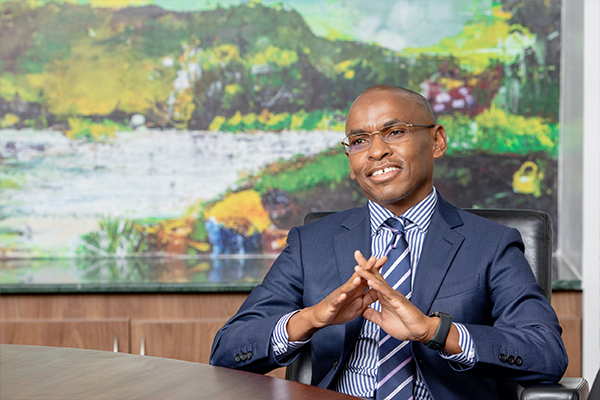 "It is time to serve my country. There are two things that I value most, and that is humility and integrity. Integrity is about doing what you say, and humility is knowing that there is always something more you can do," said Ndegwa, upon his appointment at the height of the COVID-19 pandemic in 2020.
According to Peter, working abroad imparted on him the importance of being tolerant and listening attentively, emphasising that in foreign settings, there was more of an expectation to prove oneself, regardless of one's background or status. It is perhaps these teachings that have fueled his ambition to expand Safaricom into new markets, including the challenging Ethiopian terrain.
Ndegwa's ability to inspire and motivate his team, coupled with his strategic acumen, continues to shape the trajectory of the company, making a lasting impact on the lives of countless individuals within Safaricom and beyond.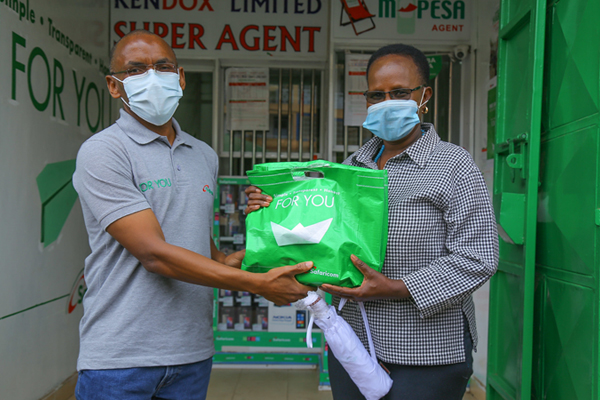 Not only does Safaricom boast the largest call centre in the region, it also holds the distinction of being the sole telco in sub-Saharan Africa valued at a staggering $12 billion. Moreover, Safaricom has taken a pioneering role by wholeheartedly embracing and integrating the Sustainable Development Goals (SDGs), and lately, Environment, Social and Governance (ESG), ensuring that these sustainability principles are deeply ingrained in almost every aspect of their operations.