#15
The Aga Khan
His Royal Highness Aga Khan IV is one of the most illustrious and dynamic faith leaders in the world. He is the 49th and current Imam of Nizari Ismailis, a denomination within Shia Islam. He is also an astute business magnate and generous philanthropist, viewing his works in these fields as part of his religious duty to improve the quality of worldly life for concerned communities.
The Aga Khan serves as the chairman and founder of the Aga Khan Development Network (AKDN), one of the largest private development networks in the world. AKDN coordinates the activities of over 200 agencies and institutions around the world. With funding from Ismaili faithful, donor agencies, numerous governments, and several international organisations, AKDN agencies operate in the fields of health, education, culture, rural development, institution-building, and the promotion of economic development.
Through the Aga Khan Fund for Economic Development (AKFED), which is part of AKDN, the Aga Khan has invested in more than 150 companies in dozens of countries in Asia and Africa, including Kenya. Some of the sectors that AKFED has invested in Kenya and the wider East African region include financial services, agriculture, media, hospitality, energy, education and health.
Strong footprint
One of AKFED's earliest holdings in Kenya is Diamond Trust Bank (DTB), a regional banking powerhouse with over with 129 branches in Kenya, Tanzania, Uganda, and Burundi, as per its 2021 Annual Report. DTB has been in operation for more than 70 years and has a strong focus on providing financial solutions to Small and Medium sized Enterprises. This in addition to other bank customer categories such as corporate and retail banking.
DTB's Kenyan subsidiary is one of the top five largest commercial banks in the country by assets, with Sh326.37 billion in total assets as of December 2021. The Nairobi Securities Exchange (NSE) listed lender raked in a profit before tax of Sh4.69 billion in 2021 and served around 279,000 customers, 194,000 of which were mobile banking customers.
Another key Aga Khan holding in Kenya's financial services sector is Jubilee Insurance, a leading underwriter with over 450,000 clients in the East African region. Jubilee Insurance had Sh38.8 billion in gross written premiums and deposit administration contribution in 2021, its Annual Report shows. Its total assets have grown close to 50 per cent from Sh104.97 billion in 2017 to Sh155.27 billion in 2021, the report further shows.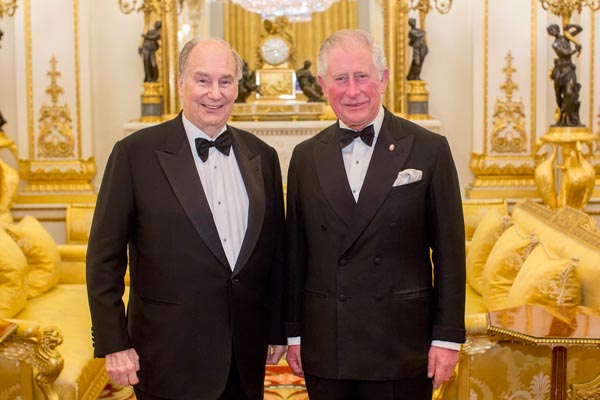 Besides being a trailblazer in the insurance sector, Jubilee has also put Kenya on the map in terms of attracting global investments. Jubilee Holdings in 2021 completed the sale of a majority stake (66 per cent) in its subsidiary Jubilee General Insurance to Allianz, one of the world's leading insurers and asset managers. This has been hailed as one of the largest and most successfully executed corporate transactions in Kenya.
Another sector in Kenya where the Aga Khan has left an indelible mark is media and publishing, where AKFED holds a significant stake in Nation Media Group (NMG), the largest media house in East and Central Africa. NMG has established strong market leadership in publishing, broadcasting, and digital media, where it has revamped investments in recent years in line with the global shift to digital media channels. NMG's recent annual report indicating it reaches 47.3 million users across its website and social media platforms. In 2021, the media powerhouse netted a profit after tax of Ksh584.7 million from a turnover of Ksh7.6 billion, a strong improvement in both topline and bottom-line performance relative to 2020 performance.
AKFED is also a significant investor in Kenya's agriculture sector. According to Dr. Azim Lakhani, the Diplomatic Representative of AKDN in Kenya, more than 70,000 farmers benefit from the Aga Khan's investments in Kenya's agriculture value chain. Some of the companies in the sector affiliated to Aga Khan include Farmers Choice, one of the largest meat processors; Frigoken Ltd, the leading vegetable processor and exporter in the country; and Premier Food Industries, a processor of sauces, jams, canned vegetables, and juices.
Frigoken, which processes more than 20,000 metric tonnes of vegetables and exports 1,500 plus containers annually, has been recognized for the instrumental role it has played in levelling the playing field for women in agriculture. 80 per cent of the company's 3000 plus employees are women, the company states on its website. Similarly, 50 per cent of the small-scale farmers the company engages are women.
AKFED's vibrant presence in Kenya's education sector is also worth highlighting. Its investments in the sector include the Aga Khan schools in Nairobi, Mombasa, Kisumu and Eldoret, which have over 4,800 students, and the Aga Khan University.
The eponymous Aga Khan University Hospital is one of Aga Khan's best-known investments in Kenya's healthcare sector. There are three hospitals in Nairobi, Mombasa and Kisumu and numerous outreach clinics in more than 21 countries. The Aga Khan is also heavily invested in tourism, through the Serena Hotels. This is in addition to stakes in leading companies in energy and in manufacturing sectors.
Global recognition
The Aga Khan's immense contribution to Kenya's economic development, which started in the pre-colonial times, has not gone unrecognized. He was in 2007 awarded the prestigious honor of Chief of the Golden Heart – the highest award in Kenya – by the late President Mwai Kibaki.
The Kenyan award adds to a long list of well-deserved laurels that the Aga Khan has received from numerous countries across the globe, including Canada, Bahrain, France, India, Iran, Italy, Ivory Coast, Uganda, Madagascar, Mali, Portugal, Senegal, Spain, Pakistan, and the United Kingdom, just to name a few.
A generous patron of the arts, particularly those that advance Islamic art and architecture, the Aga Khan has stated that his goals include the elimination of global poverty; the promotion and implementation of religious pluralism; and the advancement of the status of women.