#14
Microsoft
Kenya's ICT sector has witnessed unprecedented transformation in the last decade thanks to the rapid increase in internet connectivity, improved access to digital tools and capabilities, and world class innovations that have changed sectors like banking, farming, retail, and travel, just to name a few.
This has helped create a vibrant digital economy that has not only spurred local entrepreneurship, but also attracted big ticket investments from global names in tech. This includes Microsoft, one of the world's most valuable publicly traded tech companies. The global tech heavyweight has aggressively grown the size and pace of its investments in Kenya in the last five to ten years.
Widely known for its software products, most notably the Windows line of operating systems, Microsoft has in recent years significantly expanded its focus in Kenya beyond operating systems. It is currently one of the top providers of cloud computing and cyber security solutions in the country. The blue-chip US multinational serves a diverse array of customers, including many of Kenya's largest enterprises, thousands of SMEs, a host of government agencies, and many leading non-governmental organizations.
Microsoft has also steadily increased its direct investments in Kenya's tech ecosystem. This includes sponsoring numerous training and talent development opportunities and programs for Kenyan-based tech workers and students. The company also actively supports local entrepreneurs and innovators through partnerships, knowledge transfer and other initiatives.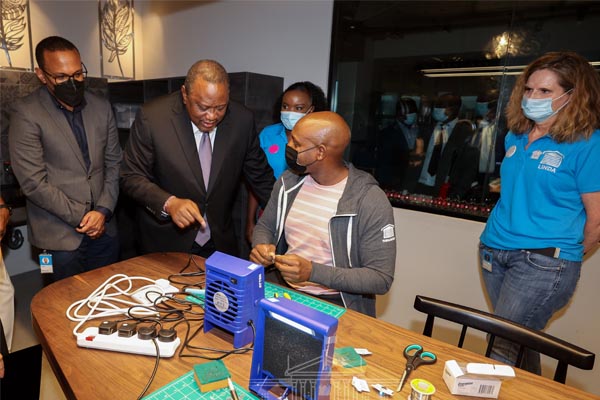 Kenya's significance to Microsoft's Africa strategy is evident in the multinational's recent move to designate Nairobi as one of two cities in Africa that will host its first Africa Development Centres (ADC)–Lagos, Nigeria's capital, was the other city that was selected.
Both sites will serve as a premier centre of engineering for Microsoft, exposing successful recruits to world class technology and the latest global trends in fields like AI, machine learning and mixed reality innovation. Engineers have already started working and the company is actively recruiting more candidates to hit its target of 100 full-time engineers at both sites by end of the year. The ambition is to expand to 500 engineers across the two sites by 2023, according to the company's media statements.
H.E. President Uhuru Kenyatta, who was the Chief Guest at the unveiling of Microsoft's Nairobi-based ADC this March, expressed optimism that the Sh3 billion investment by Microsoft would bolster the government's push to secure high-tech jobs in the digital space for the youth. The Head of State also said that Microsoft has partnered with local universities and start-ups to provide training and skills to create job opportunities for over 200,000 young Kenyans in support of the digital economy.
Microsoft's initiatives in the education sector are not limited at interventions targeting professionals, university students and local entrepreneurs looking to venture into the digital economy. It has also partnered with the government and private institutions to deploy technological tools and digital innovation in primary and secondary schools.
As an example, since the pandemic, Microsoft has equipped over 200,000 teachers in Kenya with MS Office 365 tools to support hybrid learning and collaboration through MS Teams in partnership with the Ministry of Education, Teachers Service Commission and Kenya Private School Alliance. This collaboration extends to the Kenya Institute of Curriculum Development to enable all students in the country to access digital learning content online through Kenya Education Cloud.
"Our support for both the public and private education sector has been pegged on fostering use of modern tools in the classroom, developing 21st century digital content and providing capacity building for teachers to enable hybrid learning," said Kendi Ntwiga, Country Leader-Kenya, Microsoft.
Microsoft's involvement in Kenya's education sector was a critical success factor in the successful national transition to remote and hybrid learning during the pandemic-era lockdowns. Through its products and services, the company has also helped many organizations to unlock the power of remote productivity.
Microsoft is a signatory to most of the major global and regional pledges that call on corporates to integrate environmental, social and governance factors in their business strategies, accelerate private sector action on the Sustainable Development Goals (SDGs), and practice socially responsible business. In terms of environmental impact, Microsoft has been carbon neutral across the world since 2012 and commits to being carbon negative by 2030. It is also one of the largest purchasers of renewable energy in the world.
The multinational has been an exemplary role model in championing this progressive approach to corporate citizenship in Kenya's private sector. This is evident in its work around gender equality in the country. As an example, Microsoft is working in Kenya with the likes of Tech4Dev and the Women Techsters Initiative to train 5 million girls and women across Africa in coding and deep tech skills by 2030.
The company has also made inroads into agriculture in Kenya. Agriculture accounts for as much as 30 per cent of GDP and is critical to the attainment of important national development goals, including ensuring food security and good health and nutrition for all.
One notable program in Kenya's agriculture sector by Microsoft is its 2021 partnership with the International Finance Corporation, World Bank's private sector lending arm. Through its 4Afrika initiative, World Bank partnered with IFC to make digital tools and training resources more accessible to small-scale farmers, and agriculture-linked small businesses in Kenya.
Microsoft is likely to sustain its strong pace of investments and growth in the Kenyan market in coming years. The country is a strategically important market in Africa for Microsoft. It's worth noting that the global launch of Windows 10 in 2015 was hosted in Nairobi where none other than Microsoft CEO and Executive Chairman, Satya Nadella, attended. It was the first global launch of a flagship tech product by a global tech leader in Africa, underlining the important role of Nairobi and Kenya overall in Microsoft's ambition for Africa.