#18
Rebecca Miano
MD/CEO, KENGEN
Rebecca Miano, the Managing Director and CEO of Kenya Electricity Generating Company PLC (KenGen), heads one of the most crucial entities in Kenya's energy sector. KenGen is responsible for about 75 per cent of the country's installed electricity generation capacity and has been instrumental in driving improved electrification rates across the country.
Kenya's electrification rate has improved from around 32 per cent in 2013 to more than 80 per cent today. This is double the African average, which the African Development Bank (AfDB) estimates at 40 per cent. KenGen has been the driving force behind this transformation, underlining its importance to the national economy.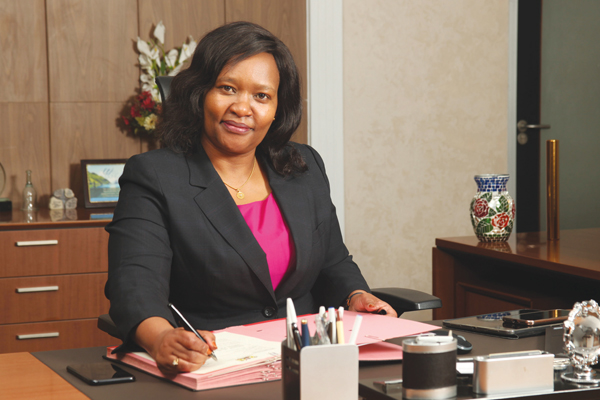 Since Rebecca Miano's appointment to the helm of KenGen in 2017 – a very competitive and hotly contested CEO job that drew more than 90 applications – the seasoned corporate lawyer has proven her prowess as a corporate strategist and savvy business leader.
KenGen, an NSE listed entity that is 70 per cent owned by the government of Kenya and 30 per cent owned by the public, has under Rebecca's leadership set new records in terms of operational and financial performance. It has also distinguished itself as an outstanding corporate citizen, embedding world-class Environmental Social and Governance (ESG) standards into its operations in a meaningful and measurable way.
Strong geothermal legacy
KenGen has through the years distinguished itself as Africa's leading geothermal power producer. Under Rebecca's leadership, the company has extended this legacy following the launch of several flagship geothermal projects in recent years. These include the recent addition of 86 megawatts of power into the national grid from its geothermal plant in July 2022 in an event headlined by the outgoing HE President Uhuru Kenyatta.
Overall, KenGen generates 799 megawatts from geothermal steam which is found deep underground in the Rift Valley and is used to drive large turbines that generate power. The company generates 825 MW from hydro, 25 MW from wind and 253 MW from thermal, creating an energy mix that is more than 90 per cent clean and renewable.
Rebecca has been emphatic about protecting the country's leadership in renewable energy in line with the national ambition to reduce carbon emissions and protect the environment. She has also been keen on diversifying KenGen's revenues beyond electricity sales to create strong shareholder value.
As an example, KenGen recently unveiled plans to set up a fertilizer plant in Naivasha. The company is currently undertaking feasibility studies for green hydrogen, ammonia, and fertilizer production at its pilot plant at Olkaria, Naivasha. An out-of-the-box thinker, Rebecca has also leveraged on the location of its Olkaria plant in Naivasha to tap into local and international tourism. Under her leadership, KenGen has established the Geothermal Spa in Olkaria.
Impressive results
KenGen's financial performance in recent years has been phenomenal. The company recorded revenues of Sh45.9 billion and profit before tax of Sh14.7 billion in 2021, its Annual Report shows. By contrast, in 2017 when Rebecca took the reins, the company posted revenues of Sh43.4 billion and profit before tax of Sh11.4 billion. Over this time, KenGen's asset base has grown 13 per cent from Sh376.73 billion to Sh425.65 billion.
These impressive results make KenGen among the top performing parastatals in Kenya, a feat that has not gone unnoticed. Rebecca has been the recipient of several wards recognizing her exceptional stewardship of KenGen. She was in 2021 named among the Top 100 Women CEOs by Reset Global People in partnership with Pulse and Avance Media. She was also selected as one of the top 25 movers and shakers in Africa in 2021 by the African Energy Chamber.
Rebecca strongly believes in diversity mainstreaming and has over the years strived to improve the working environment for women employees at KenGen to grow to their full potential. She founded the Pink Energy forum in KenGen to address gender parity and close the gap within the company. She has since advanced the Pink Energy forum to become a sectoral platform within the Ministry of Energy.
She holds a Bachelor of Laws (LLB) Degree from the University of Nairobi and a Masters in Comparative Law from the University of Australia. She completed the Advanced Management Program from Strathmore University. She is a registered Certified Public Secretary of Kenya and is a Member of the Institute of Certified Public Secretaries of Kenya (ICPSK) and the Law Society of Kenya (LSK).