Dr Wilfred Kiboro, EBS
BOARD CHAIR – NATION MEDIA GROUP
Dr Wilfred Kiboro is currently Chair of the Board of Nation Media Group (NMG), the largest independent media company in sub-Saharan Africa operating newspapers, digital platforms, television (TV) and radio stations.
He previously served as the Group's Chief Executive Officer (CEO), a position he relinquished in October 2006, after 13 years with the media giant. Dr Kiboro rejoined NMG as a non-executive Director of the Board in December 2006, and was appointed Board Chairman in 2009.
Under Wilfred's more than able chairmanship, NMG continues to register significant milestones, including expanding its reach, improving its offerings and contributing to the development of media in sub-Saharan Africa.
For instance, NMG's digital footprint grew to 52.2 million users by mid 2022, compared to 44.9 million users during the same period in 2021. One key thing the growth can be attributed to is the Kusi Ideas Festival, a pan-African platform launched by NMG in 2019.
The aim of the annually-held festival is to examine Africa's place in the world; its citizens' problem-solving ideas and innovations; and how these prepare the African people to deal with the coming challenges. In 2022, it was held in Accra, Ghana, as Botswana beckons for 2023. In addition to positioning NMG as a top-of-mind pan-African media brand, the Kusi Ideas Festival plays a major role in expanding NMG's audience, as well as serving as an extra stream of revenue.
NMG is on a journey of modern digital transformation. In line with this, NMG held its third forum themed 'Enhancing Africa's Digital Transformation' in February 2023, with the aim of deepening the use of technology by the private sector and government entities. ICT Cabinet Secretary (CS) Eliud Owalo and the United States (US) Ambassador to Kenya Margaret Whitman graced the event.
The forum brought together varied stakeholders and respected authorities in the digital realm to present and discuss ideas, innovations and perspectives relating to the prevailing and emerging needs of an increasingly digitised world. The key focus areas included the role of digital shifts in the expansion of businesses while beefing up the systems to keep them safe from cyber-attacks.
To boost its digital offering, and in line with its growth trajectory, NMG has partnered with venture capital (VC) firm Antler East Africa. Antler East Africa is renowned for identifying and nurturing innovative digital content and products. Guided by the VC firm, NMG has continued content digitisation by launching a premium section on its website: www.nation.africa, where users pay a daily, weekly, monthly or annual fee to access its high quality exclusive content.
NMG was recognised in the 2022 Global Media Awards organised by the International News Media Association (INMA). The group was listed among 60 first-place winners across 20 categories aimed at surfacing innovation and best practices in news brands, optimising the use of media platforms, subscriptions, advertising, data and insights. Furthermore, the third annual Kusi Ideas Festival emerged top in the category of using an event to build a news brand.
As a reputable and responsible Chairman, Wilfred emphasises the importance of supporting responsible journalism and promoting media literacy across sub-Saharan Africa. NMG plans to expand its efforts in this area, focusing on initiatives that promote both journalistic integrity and fact-based reporting.
Guided by Dr Kiboro, on 24th March 2023, NMG established a foundation with the objective of accelerating its contribution towards attaining the United Nations' Sustainable Development Goals (UN SDGs). The Nation Media Foundation (NMF) is tasked with helping the Group create a positive impact in the society.
Within the corporate world, Dr Kiboro holds a wealth of experience, and has served on several boards. He has held positions on the boards of East African Breweries Limited (EABL), Standard Chartered Bank (SCB) Kenya, Kenya Association of Manufacturers (KAM), Rhino Ark and the National Environment Management Authority (NEMA).
Wilfred served as Chairman of the East African Business Council (EABC) and the founder Chairman of the Media Owners Association (MOA).
Currently, he is the Chairman of the Board of Family Bank, Wilfay Investments Limited and is the Chancellor of Riara University.
In terms of his education, Dr Kiboro holds a Bachelor of Science (BSc) degree in Civil Engineering from the University of Nairobi (UoN). In 2015, he was awarded an honorary Doctor of Philosophy (PhD) degree by Kenyatta University (KU).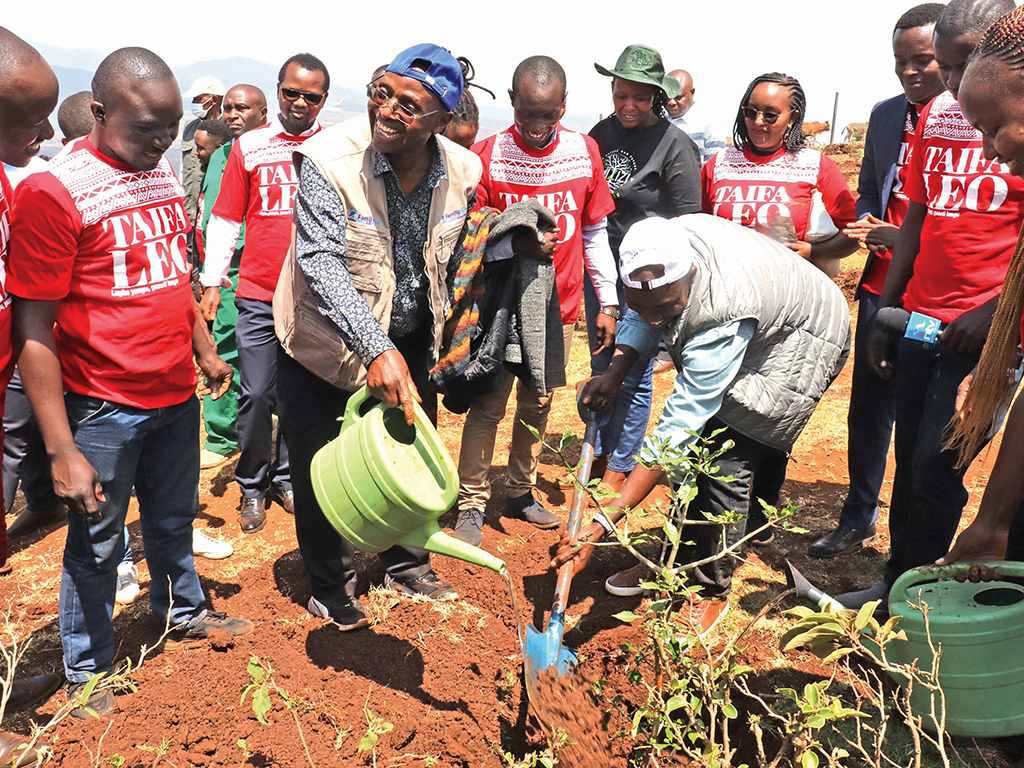 Wilfred has been bestowed with two very significant awards in his time: the Elder of the Order of the Burning Spear (EBS) by His Excellency (HE) the President of Kenya, for his distinguished service to the nation, and the Leadership Shines Through-Africa Award.
The proven visionary and transformational leader always finds time to mentor the youth, and thoroughly enjoys spending time with his lovely wife, Fatuma, whilst looking after their farm.
Dr Kiboro is also a philanthropist of national repute. His latest project involves leading his family in the establishment of a Catholic parish in Meru, Kenya.