#6
EABL
East African Breweries PLC (EABL) was founded in 1922 and in the last 100 years has grown to become East Africa's dominant alcoholic beverage business with a first class selection of over 40 brands ranging from beers, spirits and adult non-alcoholic drinks (ANADs).
First listed on the Nairobi Securities Exchange (NSE) in 1954, EABL is renowned for being one of the oldest enterprises in Kenya and the larger East Africa region. By the early 2000s, it was listed on the Ugandan Securities Exchange (USE) and Dar es Salaam Stock Exchange (DSE). The group's largest shareholder is Diageo PLC, an international alcoholic beverage brand, with 50.03 percent ownership.
With a vision to be the most celebrated business in every market in Eastern Africa, EABL has formed an extensive network of breweries, distillers and a distribution system that spans across the core markets of Kenya (Kenya Breweries Limited – KBL), Uganda (Uganda Breweries Limited – UBL), Tanzania (Serengeti Breweries Limited – SBL) and South Sudan (East African Beverages South Sudan Limited – EABSS). Despite operating in these key Eastern African markets, the company's unique products can be found in more than 10 countries across Africa including Burundi, Rwanda, Democratic Republic of Congo (DRC) and beyond.
A customer-obsessed business, EABL takes time to study the market and understand both consumer needs and wants, determining how best to satisfy them. The Kenyan-based holding company constantly invests in innovating and renovating its brands and distribution network, in tandem with dynamic consumer trends.
Ms Jane Karuku, EABL's Managing Director (MD) since 2021, has proven herself to be a resilient and admirable industry sector thought leader, steering the group to phenomenal annual profits subsequent to her appointment. The firm reported a 130.4 percent year on year surge in profits after tax to Sh 8.74 billion in half year 2022 from Sh 3.79 billion seen in half year 2021. EABL attributes the double digit growth across its markets and categories to an improved operating environment as outlets re-opened, post the COVID-19 pandemic.
Dependent on natural resources for the manufacture and distribution of its wide array of products, EABL engages with over 60,000 farmers across the supply chain, providing them with agricultural skills and resources to support sustainable farming practices. Currently, the firm contributes about 1 percent of Kenya's Gross Domestic Product (GDP).
In 2020, Diageo PLC launched a 10-year Environment, Social and Governance (ESG) action plan named 'Society 2030: Spirit of Progress' to help create a more inclusive and sustainable world. From the point of the plan's inception, EABL has made commendable progress, surpassing the previous year's targets each time.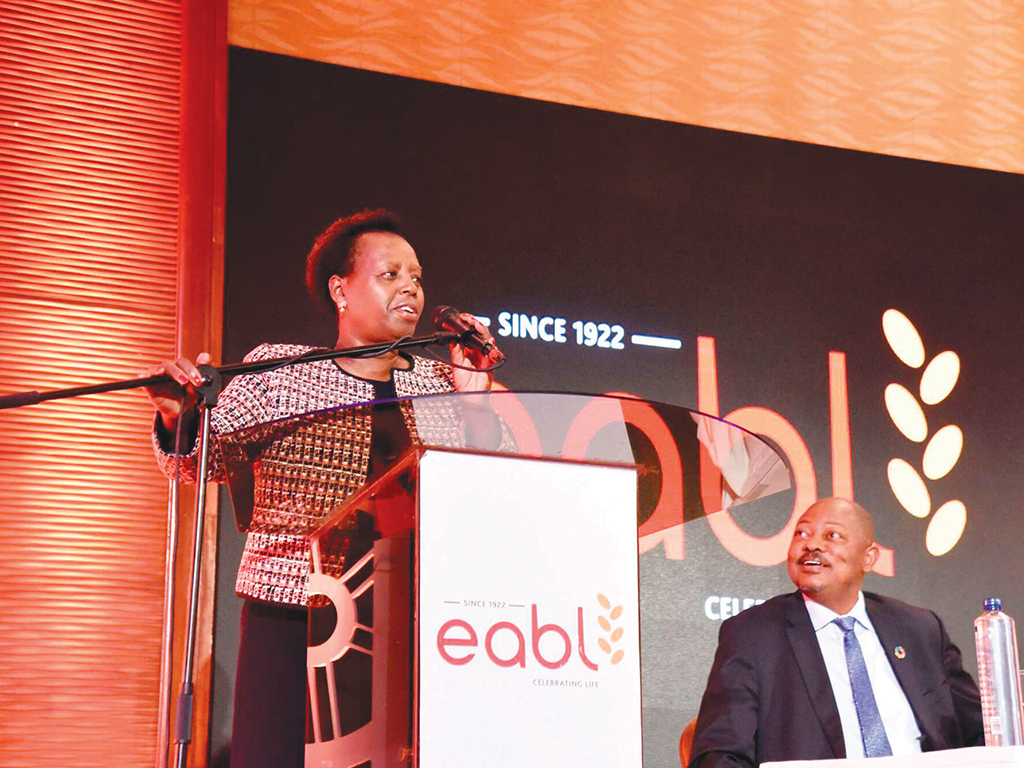 As a result of Sh 5.1 billion renewable energy investments in May 2022 in both the Kenya and Uganda plants, the company is set to reduce 42,000 tonnes in carbon emissions annually (about 95 percent). The biomass plants will replace heavy fuel oils used in EABL's sites and will be powered by sustainable raw materials such as coffee and rice husks, macadamia shells and sugarcane bagasse.
The company outlined the projections in its EABL 2022 Sustainability Report, launched in November 2022 by the then Principal Secretary (PS), Ministry of Environment and Forestry, (now National Treasury and Planning) Dr Chris Kiptoo. Speaking during the launch, Ms Karuku noted, "The biomass investment demonstrates the strength of our commitment to pioneering 'Grain to Glass Sustainability', which is a key pillar of our Sustainability Strategy. It will create hundreds of direct and indirect green jobs throughout our supply chain."
To promote positive drinking, EABL launched the SMASHED programme aimed to educate the youth, parents and teachers on the dangers of both underage and excessive drinking. By the end of 2022, the program had reached 48,690 people, achieving a success rate of 137 percent, with an initial target reach of 35,500 people.
Along the lines of afforestation and reforestation in the fight against climate change, EABL has in the last decade planted over 1.3 million trees around Kenya, with a success rate of 85 percent. The hope is that that number will have doubled by 2030.
Pursuant to the manufacturer's goal to preserve water for life, EABL completed 100 percent of its water collective action projects. The company reached a total of 99,317 people with water, sanitation and hygiene (WASH) programmes, 311 percent above its annual target of 31,885 people.
In the continued effort to champion gender, diversity and inclusion, EABL reached 5,327 people through business and hospitality skills training programmes, a 165 percent achievement of its 3,220 people targeted. In addition, the group increased the number of women represented in its community programmes, from 54 percent in 2021, to 63 percent in 2022. Today, EABL stands at 36 percent representation of women in executive leadership roles.
EABL aims to become Net Zero in its direct operations by 2030. To achieve this, all of the company's sites run on 96.9 percent renewable electricity for operations, above its target of 95 percent.
The state of the world has pushed multiple corporations to transition to a circular economy model, and EABL has this goal firmly listed on its agenda. The company has maintained zero tonnes of waste to landfill from its direct operations. Moreover, 100 percent of all plastics used at EABL's sites are widely recyclable, reusable and compostable, which is higher than in 2021, where recyclable plastics stood at 90 percent.
EABL is intentionally driving an agenda of guaranteed thriving for all stakeholders. As the business continues to prosper, EABL's efforts towards sustainable development will carry on in earnest.