#16
Audi S8
By Dr. Hanningtone Gaya
A scan on most roads and sales statistics globally confirm that most discerning motorists now lean towards luxury SUVs. However, for more knowledgeable and comfort-craving car buyers – especially those who seek enthralling driving experiences and sheer pleasure, a rapid first-class saloon holds special appeal with the Audi S8 being one of these.
The S8 offers sophistication and style in an understated manner. It's a high-performance limousine both in terms of "trim" and also outright capability, appealing to premium car buyers who demand the best possible combination of sizzling performance and exquisite luxury.
Design
The standard A8 is a handsome machine, but Audi's designers have discreetly endowed the sportier model with its own visual character. The S8 is immediately familiar in terms of the interior as it mirrors many other Audis. It is, however, the trim treatment on the doors and seats that lift the feel of the cabin. The sizable wheels fill the saloon's arches with purpose and the body appears to be stretched low and tight over its corners.
True enthusiasts describe the S8 as an infinitely more elegant and desirable solution to high-performance luxury motoring. It's particularly attractive from the rear, where the OLED rear lights – part of an optional lighting package, illuminate in a mesmerizing sequence when the car is unlocked.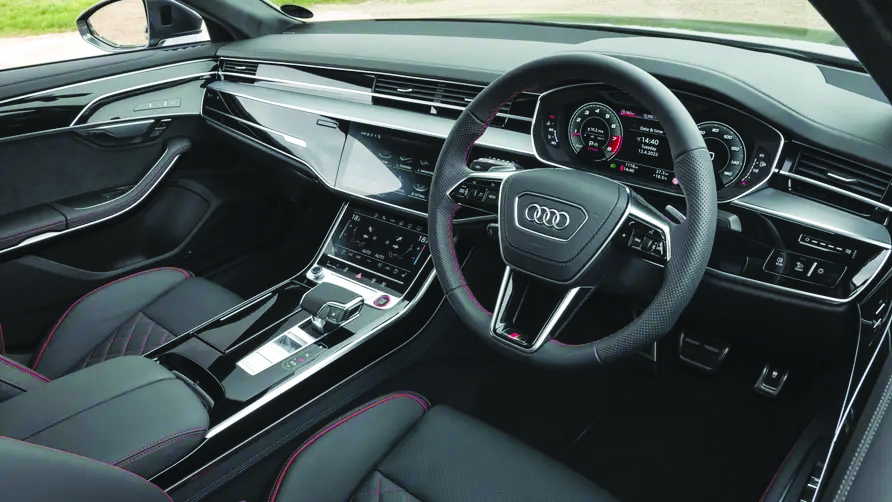 Build quality, as expected from Audi, is superb. It is, overall, a technology-laden interior cabin, awash with digital displays and touch-sensitive panels.
The S8 is a big car with a roomy interior cabin and a more than sufficient rear legroom. You do get a 505-litre boot should you need to transport stuff.
Performance
Housed under the S8's bonnet is a very powerful 4 litre twin-turbo petrol V8 capable of 420 kW and 800 Nm. It is significantly more powerful than its homeland rivals from Mercedes-Benz – S500 L and BMW – 750Li. Audi claims a blistering 0-100 kph time of 3.8 seconds, which is quite something, given the S8's not-insignificant kerb weight in excess of 2.2 tonnes!
While the German limousine's powerplant does emit a pleasing roar when tasked to deliver full or near-maximal acceleration – courtesy of automatically actuated flaps in the exhaust system, the most impressive aspect of the S8's performance is just how effortless it feels. It's a very smooth engine, which, coupled with active noise cancellation technology, facilitates relaxed – yet devastatingly fast, progress. The 8-speed automatic transmission is also very well matched with the engine, delivering buttery-smooth, but eminently precise, shifts.
Ride
For a car with such a long wheelbase and hefty kerb weight, its ride management systems do an amazing job of keeping it comfortable yet engaging to drive.
The S8 features what Audi calls 'predictive active suspension'. With this system, each wheel can be independently lifted or pushed down via electromechanical actuators. According to Audi, this makes it possible, for the first time, to actively control the trim of the body, in any driving situation, which greatly reduces pitch and roll. Add a front camera that scans for the road surface ahead for larger irregularities, and the Ingolstadt-based firm's standard-bearing saloon is said to be capable of altering its suspension settings 'predictively'.
Another boon to the S8's dynamic abilities is the fitment of dynamic all-wheel steering, which is claimed to improve steering response and facilitate a tighter turning circle. A standard sport differential actively transfers torque between the rear wheels during cornering, countering the tendency to understeer.
Comfort
Most of the controls have now been integrated into the pair of touchscreen panels that dominate the centre console. The lower section houses the climate control functions, while the rest of the car's infotainment and setup controls are located in the upper display. Audi has mastered combining slick, clutter-free touch panels with the tactility of haptic feedback.
The S8 has standard features that truly stand-out, including the individually contoured comfort sports front seats with adjustable side bolsters and heating/ventilation – a massage function is optional. The standard infotainment package offers Apple CarPlay and Android Auto functionality, as well as a charging pad and a Bang and Olufsen audio system.
Verdict
The saloon segment appears to be slowly fading away, but there are some great cars to be had if you don't want an SUV. The S8 is one of them. There's an air of good taste, sophistication and 'class' about the Audi S8.