#2
Peter Ndegwa
CEO SAFARICOM PLC
Since joining Safaricom PLC as the first indigenous Kenyan CEO on April 1, 2020, Peter Ndegwa has introduced a new leadership style that is targeted to informing the stakeholders of his thoughts in building Safaricom into a customer obsessed firm. Towards this end, Peter has consistently published seminal articles in the authoritative Business Daily and the Daily Nation newspapers towards this end.
As one of the latest entrants into the top echelon of business leadership in Kenya, we share Peter's thoughts as captured in some of these articles.
Of most note and one of the latest that was published on April 1, 2021, Peter shares 10 Leadership Lessons Learned in Transition Amidst A Crisis, the exact title of the article. He wrote:
Today marks one year since I joined Safaricom PLC, and I can't help but be filled with a deep sense of gratitude both as a leader and as an individual. I am truly grateful for a smooth and successful transition back to Kenya and into the company, and I am happy to be part of this wonderful family. It has been a tough year for humanity and business, but I am thankful for good health and a good support system.
As I take stock of this past year, I would like to share 10 things I have learnt along the way:
1. Managing major transitions is a critical leader's job (both personal and professional). It needs careful thought, a clear vision and remarkable resilience.
2. In times of crisis, lead with purpose and follow your intuition when making decisions. Tap into your previous experiences and do not wait for all the facts to guide you as they will not always be there.
3.   Teams can do anything when challenged positively. For people to deliver their best, you need to communicate clear goals and install a sense of mission in a purposeful way to ensure that everyone actively works towards achieving it.
4.   Do not underestimate the power of partnerships. We worry too much about competition when there is so much more power when we collaborate. Covid-19 pandemic forced us to come together and collaborate on matters that benefit society as a whole, and I think we should definitely do this more often.
5.   The customer is king, and is even more important in these uncertain times we are currently living in. Customers will remember how you made them feel in times of crisis, and it was important for us to stand with Kenyans and cushion them against the negative impact of the Covid-19 pandemic.
6.   Covid-19 reminded us of the power of purpose and as a purpose-led organization, we are dedicated to transforming lives, ensuring we leave no one behind.
7.   Deal with the crisis, but also continue to build the future. Despite the uncertainty we face, maintain a sense of mission and be devoted to achieving it.
8.   As we navigate through the Covid-19 pandemic, the role of leaders has changed in this new world of working from home and virtual meetings. Keeping connected while we are apart is an even bigger imperative as we ensure that business continues as usual. It is ok not to know everything but lead with empathy and have the courage to deal with situations as they occur.
9.   We can adapt to any change, never allow anyone to say you cannot. The situation may seem grim, but we must remain optimistic and work towards a better future.
10. In this social media age, listen for real feedback but learn to filter and depersonalise the "noise".
On 5G, Peter wrote: We recently launched 5G and I must say there are immense opportunities ahead of us. Our inspiration to innovate continues to be our Brand purpose – Transforming Lives. It is with this in mind, that we have launched 5G- a truly transformational innovation in technology.
5G is the next generation of mobile internet connection and offers much faster data download and upload speeds by allowing far more devices to access the internet at the same time. This is an investment that we anticipate all our 30+M customers with smart phones and a digital lifestyle will relish. A new era of the Internet of Things (IoT) in Kenya is about to kick off with aplomb.
With 5G, whatever we do now with our smartphones we'll be able to do faster and better, but what's really exciting is all the new services that will be built and the many opportunities that will arise especially for consumers, MSMEs and large organisations alike.
Whatever our future holds, you can bet on one thing, Safaricom is committed to being your trusted companion as we 'Go Beyond' into the world of 5G.
Turning to 'How businesses can become a powerful force for the SDGs' to quote the title of the article, Peter penned the following: During the 2019 UN General Assembly, the UN Secretary General called on all sectors of the society to collaborate if we are to achieve the implementation of the Sustainable Development Goals (SDGs) by 2030.
The year 2020 marked the beginning of the Decade of Action – a reaffirmation of the global commitment through accelerated efforts and sustainable solutions to the world's biggest challenges, ranging from eradicating poverty, reducing gender inequality to addressing climate change.
Before the onset of Covid-19, the world was already lagging behind in the achievement of critical milestones. This is evidenced by the rise in the number of people suffering from food insecurity. The number was at 690 million in 2019, which is an 8.7% increase compared to 2014.
Climate change is also occurring more rapidly than anticipated, with 2019 being the second warmest year in the decade. Eradication of extreme poverty has slowed in pace, with projections showing that 6 per cent of the global population will still live-in extreme poverty by 2030.
Kenya, just like many other developing countries, is lagging in the achievement of key SDGs. According to the 2020 country SDGs index rankings, Kenya emerged position 123 out of 193 members of the UN with notable progress on only 2 out of the 17 SDGs; Climate Action and Decent Work and Economic Growth.
At the current pace, Kenya risks missing out achieving its key aspirations by 2030 such as achieving food security, universal health coverage and reducing the unemployment levels among the youth.
To turn the table, we must harness the critical input of the private sector because in our aspiration to create a more sustainable society, we realize that we cannot succeed in isolation.
For business to effectively support the achievement of the SDGs, a shift in the leadership mindset and redefining of business models is also required.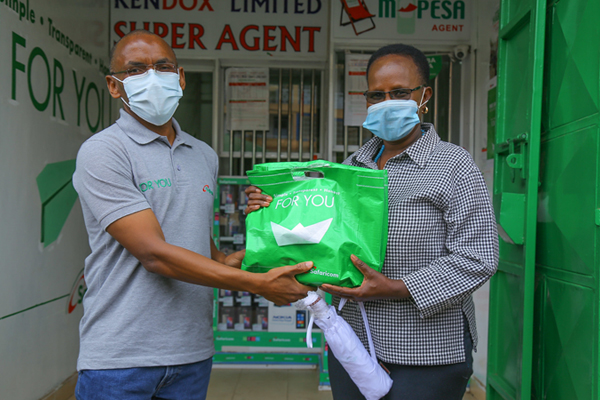 We must create a mindset of leading from purpose that will enable us to accelerate the delivery of sustainable businesses. We must borrow and share the best practices on how we can pool together and manage resources, be visionary and ethical.
To achieve the SDGs, we must take collective action by consistently engaging like-minded business partners and spurring actions geared towards achievement of the goals. Hence, the launch of the 'Sustainable Future Series'. Peter writes that:
To help us in driving this, we launched the Safaricom Sustainable Future series, which aims to bring together business leaders to discuss how to tackle some of the most pressing challenges of this decade.
We recently held the second edition of the series and it was great listening to and participating in discussions with other local business leaders around how we can work together with other business leaders to achieve the SDGs.
The discussion also focused on leadership approaches needed in the private sector for business to meet the challenge of building more resilient and sustainable societies.
Each of us, whether as individuals or organisations, both small and large, can and should play a role in bringing sustainability to the forefront. We remain committed to collaborate with all stakeholders to help advance the SDGs.
When we commit to sustainable business, we create a virtuous circle – good for customers, good for employees, good for business, good for the planet and good for the future.
As the private sector and as responsible corporate citizens, the best way to push the sustainability agenda forward is by incorporating the SDGs in how we run our businesses. After all, doing good is good for business.
When Ban Ki Moon, the former UN Secretary General officially launched the SDGs, he said: "This is the people's agenda. It is a plan of action for ending poverty in all its dimensions, irreversibly, everywhere, leaving no one behind." We remain committed to ensure that we leave no one behind and this Sustainable Future Series which we hold every 3 months is part of that commitment.
On market internet penetration, Peter wrote: Over two decades ago, the mobile phone in Kenya was a novel gadget for staying in touch on the go, through calls and short messages. Today, it does a lot more than just communication. It has emerged as an effective tool for tackling society's most pressing challenges, facilitating inclusive and sustainable development.
But not everyone has benefited. While the mobile industry in sub-Saharan Africa has largely risen to the challenge of keeping individuals and businesses connected – nearly 800 million people in the region are still not connected to the internet.
In answering the question, 'How then do we ensure we leave no one behind?', the CEO of Safaricom stated in the article, 'Safaricom is working closely with Vodafone and Vodacom teams across Africa to close the digital divide through the recently launched Africa Connected initiative. The continent-wide campaign seeks to accelerate economic recovery by driving digital inclusion, enabling access of affordable devices and empowering Micro and Small business to use technology to grow their businesses. The initiative will help boost the continent to be more competitive, resilient, inclusive and sustainable.
Through the campaign, we invite governments, industry, business and civil society to collaborate with us to ensure we bring ICT products and services closer to the people without the access.
To this end, Safaricom is committed to continue working with Government, the industry and social sector institutions to expand and broaden digital offerings, foster an enabling environment for rapid digitalization and speed up infrastructure investments.
Connectivity is an economic imperative
This calls for proven innovative approaches such as mobile money for sustainable development. Mobile money has driven financial inclusion in Kenya, catapulting it from single digit at the turn of the century to over 80% now. Studies have demonstrated that mobile money has helped lift many individuals out of poverty and improve their quality of life.
In Kenya, the internet is mostly accessed via the mobile phone and has opened new revenue opportunities and enhanced the livelihoods of many. Businesses are also deriving huge benefits from digital technology, enabling them to grow, create jobs and enjoy more economic benefits.
We must get more people online
The last two decades have demonstrated that placing the mobile phone in the hands of as many people as possible, connected to fast and reliable internet, can be transformative. Currently, GSMA, the industry association that represents interests of mobile network operators globally, estimates that the industry contributes nine per cent of African economies' GDP, with the ecosystem supporting 650,000 individuals formally and another 1.4 million informally.
A firm infrastructural foundation has been laid and the benefits are there to be realized. Now is the time to quicken the pace of actualizing universal access to mobile technology.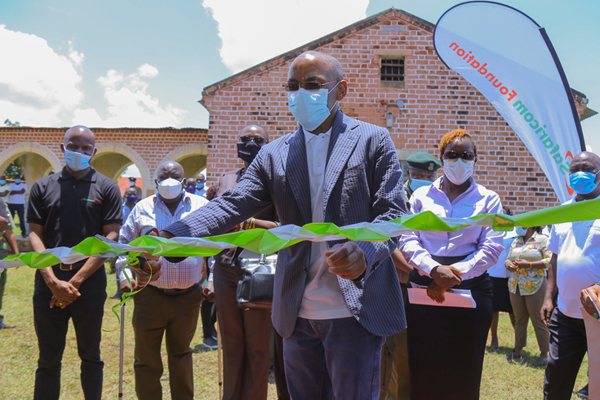 On Public-private partnerships, Peter wrote that these are crucial to accelerate development. He says in the article that: Partnerships with government, business and organizations, both local and international, are an important cornerstone of continued success in digitalization. A collaborative approach is key for a future that is fair, inclusive and sustainable. Initiatives such as the African Union Commission's digital transformation strategy and the UN Digital Cooperation Roadmap provide frameworks for how this could progress.
Alliances and collaborations can help unlock greater benefit for all and accelerate economic progress. Take the ongoing strategic partnership between Safaricom and Google to make 4G devices affordable to low-income earners through daily payments, for instance. It targets almost 15 million customers who are still on 2G in the next couple of years. This seeks to address the upfront cost of devices, which hinders these customers from tapping into benefits of the high-speed internet currently available in many parts of the country.
Today, M-PESA is arguably the backbone of our digital economy, facilitating payments, transfers and micro-lending. As it evolves and finds applications in different industries and sectors beyond financial services, it remains a platform around which ecosystems can coalesce.
Over the last two decades, Safaricom has grown to be more than just a mobile service provider. We have morphed into a digital lifestyle enabler by leveraging on partnerships and collaborations to transform lives. Our next phase is geared towards being more customer obsessed by facilitating technology growth for our customers, driving greater experience and ensuring that we leave no one behind in the digital era.
The fourth industrial revolution is here. It is expected to ride on digital technology and innovation, making the need for sustained efforts to close the digital divide more urgent. We have an opportunity-through the Africa.Connected campaign-to jointly rewrite the script and close the digital gap. We need to come together telcos, governments and social sector institutions, to expand and broaden digital offerings, foster an enabling environment for rapid digitisation and speed up infrastructure investments.
And crown it all, Peter has just led a consortium of multinational firms to win Ethiopia's licence bid on Ksh 91.8 bn offer, a historic Foreign Direct Investment (FDI) for Ethiopia. Safaricom Plc, under Peter Ndegwa, is venturing into new frontiers in telecommunication and financial services in this year of his leadership at Safaricom Plc, dubbed the year of Twende Tukiuke! Ethiopia has hitherto been a very difficult market to break into, and this feat speaks volume of this soft spoken, visionary, highly intelligent, sharp and witty lead honcho in Kenya's corporate space, Peter Ndegwa. Peter is Kenya's first native to be appointed the CEO of Safaricom Plc, in the firm's 20 year-corporate history.