#16
KWAL
Kenya Wine Agencies Limited (KWAL) a leading manufacturer, importer and distributor of wines, spirits, ciders, and non-alcoholic beverages, has a rich heritage in Kenya that spans more than 50 years.
Established in 1969 as a state-owned enterprise, KWAL has achieved significant milestones through the years emerging as a critical cog in Kenya's industrialization engine supporting indigenous Kenyans businesses participate in Wines and Spirits Industry. With the establishment of Kenya's first commercial winery in 1982, KWAL began the journey of local production of beverages using for instance, locally grown grapes and papaya fruit. Since then, KWAL's range of products have expanded to include household brands such as Kibao Vodka, Hunter's Choice whisky, Viceroy Brandy, Amarula Cream Liqueur, Savanna cider, Hunter's Cider, Kingfisher, Caprice Wines and Nederburg Wines.
KWAL's operations continue to support the growth of the hospitality industry across various categories such as distribution, retail and logistics. For instance, KWAL works with over 50 distribution partners thus contributing significantly in supporting government on the national agenda to create employment.
Successful privatization
KWAL is one of the most frequently cited case studies of what successful privatization of state-owned enterprises should look like. In 2014, Distell acquired a 26 % stake in KWAL from Industrial and Commercial Development Corporation (ICDC) now KDC (Kenya Development Corporation). Later in 2017, Distell acquired a further 26 % stake from Centum Investment, gaining a majority stake in the business. Distell Group is a multinational beverage company based in South Africa and listed on the Johannesburg Stock Exchange (JSE). Investor briefing documents from Distell Group indicate that it had a 55.37 % stake in 2019 versus KDC's 43.77 % stake. KWAL is expected to undergo the second phase of its privatization journey in the near future.
KWAL's privatization not only allowed the government to raise revenue, but also brought in new leadership and vision that set the organization on a more aggressive growth trajectory. In the past few years, KWAL has invested heavily in its brands, revamped its route to market capabilities, improved overall efficiencies and boosted profitability.
Part of KWAL's strategy since privatization has been investing in its local manufacturing capacity. In 2019, it localized production of ciders at its Enterprise Road premises. Today, the business manufactures two leading cider brands; Hunter's Cider (Gold and Dry variants), and Savanna Cider. Kibao Vodka, one of KWAL's flagship brands, was recognized globally as one of the Top 100 fastest growing spirit brands (IWSR, 2019) after a successful relaunch of the brand. In the five-year period between 2016 and 2021, KWAL has doubled its volume output and has significantly improved its bottom line more than tenfold, the company's Managing Director, Lina Githuka, said in media statements.
Lina, who featured in Business Monthly's 2021 Top 25 Women in C-Suite Impacting Business, noted that these achievements were the result of a positive shift in corporate culture, re-engineering of business processes, and investment in employee talent. Over the years KWAL has built critical employee skills and competencies which continue to drive individual and company growth. Further transformation in the people agenda is evident in the improved employee work experience that has created a highly engaged workforce culture.
Ksh4 billion investment
KWAL is investing Ksh4 billion in constructing a green manufacturing facility in Tatu City, Kiambu County. This is the first investment that KWAL has made in a new production facility in more than two decades, underscoring the strong growth ambition that has come following its privatization. "The key objective of our Tatu investment is to support our growth agenda which is anchored on localizing manufacture of the imported portfolio as well as enhancing local production capacity.'' said Lina during the groundbreaking ceremony in 2021. The Tatu investment is expected to offer more job opportunities across the value chain.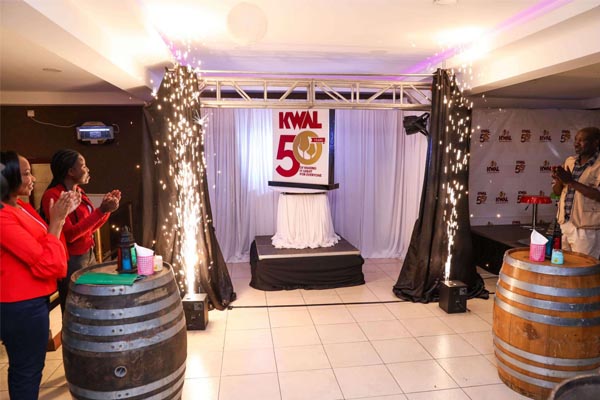 Addressing risks, seizing opportunities
KWAL has also been proactive about managing risks in the market, key among these risks being the menace of counterfeiting. Counterfeiting is one of the biggest threats facing brand owners and consumers today. It negatively affects those along the value chains of legitimate businesses and denies the state vital tax revenue. In the alcohol manufacturing industry, it comes with added health risks as counterfeiters are not subject to health and safety standards that legitimate brewers and distillers adhere to.
"We work closely with the public and law enforcement agencies to disrupt counterfeiting operations," Lina said. She also noted that the menace of counterfeit products affects the industry and thus requires a collaborative approach with various government agencies.
KWAL's outlook for the future continues to be optimistic. With the strides taken so far, KWAL is committed to continue delighting their consumers and stakeholders, while creating a sustainable cycle of growth for the business and the society.