#3
Jaguar F-Pace
By Gaya Junior
Jaguar announced the updated F-Pace. So, it's out with the old, in with the new, as the British manufacturer seeks to refresh its popular F-Pace range. The upgrade comes with new mild-hybrid powertrains, new interior, and extra tech.
With the facelifted F-Pace now in the local showroom at Inchcape Kenya showrooms, we delve into the marque's best-selling SUV.
The updated F-Pace is probably the last fossil-fuelled Jaguar model to paw its way out of the brand's Solihull factory. Since its introduction in 2016, the F-Pace has gone on to become Jaguar's best-selling model around the globe. The new model incorporates subtle exterior design changes, with the interior receiving a major overhaul that includes a new cabin layout and a bigger, faster-reacting infotainment system.
Exterior
There's an optional new black exterior pack, which includes gloss black finishes to the bumpers, grille and badging. It ramps up the Jaguar's kerb- and road presence appreciably and the gloss black elements are complemented by matching 20-inch alloy wheels. I have to admit, the pack looks quite attractive on the new model, especially at night, when the new "J-shaped" LED lighting elements project an imposing glare down the road.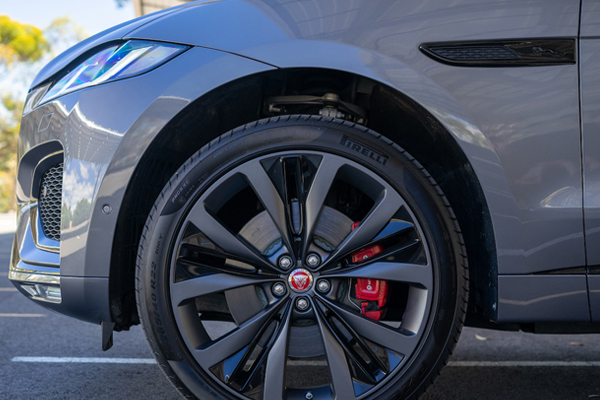 At the rear, a new bumper design houses new exhaust tips – trapezoid against the outgoing model's oval-shaped pipes – as well as a new tail-light design. These external changes are subtle. The F-Pace has always been a handsome and striking large SUV.
Interior
In recent years, new cars have become scarily expensive – especially in the local market, but the quality of interior materials – especially in premium cars, is not impressive. In fact, manufacturers have opted for gloss materials to make them look more expensive than they really are. From faux carbon fibre, fake aluminium trim and gloss-black plastic masquerading as the real thing rather than authentic materials. Suffice to say that Jaguar Land Rover and Volvo have not been as guilty of this as the German brands and, as a result, the new F-Pace's interior really does instil a sense of luxury with thick leather seats, tightly quilted hide – on the dashboard and door panels, as well as a perforated leather-trimmed steering wheel.
Of course, the updated F-Pace's interior is not devoid of plastic – the buttons for the ventilation modes, seat heating and demister are gloss black plastic, while the climate control dials have a chromed-look finish. The steering wheel controls lack a nice tactile "push click" feel. One needs to prod squishy plastic panels on the spokes to activate functions.
An 11.4-inch Pivi Pro infotainment system dominates the fascia. It's made from curved glass, so its user experience is close to that of a high-end tablet. The system reacts to inputs much quicker than before and is now fully compatible with Android Auto and Apple Carplay. The F-Pace also has over-the-air functionality, so buyers won't need to visit a dealer's workshop to receive software updates… it will download and install them from the internet – via a Wi-Fi connection, for example.
Pivi Pro represents a notable upgrade over the previous infotainment system, but it has so much functionality crammed into its submenus that one may jokingly run the Jaguar's battery flat while you sit in the car and attempt to figure it all out. One will definitely need to take some time to set up favourite features. This will make the features much easier to use than regularly sifting through multiple menus.
All variants of the F-Pace get adaptive cruise control, blind spot monitor, rear collision monitor, rear traffic monitor, traffic sign recognition, and adaptive speed limiter as standard. When it comes to practicality, the F-Pace has a bigger load bay than rivals from Mercedes-Benz and BMW. There's more cargo space when the rear seats are fully folded down.
Engine
Four models are available in the range: the R-Dynamic S, R-Dynamic SE, R-Dynamic HSE, and the range-topping SVR. Buyers initially got a choice of four powertrains: the 2.0-litre turbo petrol four-cylinder 'P250' offering 183 kW on the power spectrum and 365 Nm of torque, a 3.0-litre turbo petrol inline six-cylinder 'P400' with 294 kW and 550 Nm, a 3.0-litre turbo diesel inline six-cylinder 'D300' churning out 221 kW and 650 Nm, or a 5.0-litre supercharged petrol V8 'P550' with 405 kW and 700 Nm – the latter is only offered in the flagship SVR variant.
Jaguar announced that they commit to a fossil-fuel-free future from 2025, so they halted performance development from the current range of internal combustion engines. There's also a 2.0-litre turbodiesel engine available that produces 150 kW and 430 Nm of torque; the powerplant proves economical and pleasingly smooth in combination with the 8-speed automatic transmission. So, the Jaguar's performance is perfectly okay for everyday use.
All engines are fitted to an eight-speed automatic transmission, and all-wheel drive is now standard across the F-Pace range. The four-cylinder delivers the F-Pace to 100km/h from standstill in a claimed 7.3 seconds, while fuel consumption is reported as an average of 9.3 litres per 100 kilometres. The diesel powertrain does the 0-100km/h sprint in a claimed 6.4 seconds, with fuel consumption and emissions listed as 7.4L/100km. The 0-100km/h time drops to a claimed 5.4 seconds with the petrol six, with fuel consumption listed as 8.7L/100km. The V8, meanwhile, completes the benchmark sprint in a claimed 4.0 seconds, with fuel consumption listed as 11.7L/100km. The figures will increase slightly in real life rugged or urban driving depending on traffic levels.
Driving
Since its introduction, the F-Pace is one of the most satisfying models to drive in its segment, with Jaguar retaining its sharp, sure-footed handling attributes. It's a very neutral car to drive fast, which means that even if you turn into corners a little too quickly, the Jaguar won't do anything untoward – it remains poised and easily controllable. The standard all-wheel-drive shuffles power up and down the drivetrain to maintain the best possible traction, which, of course, aids stability. Body control is exceptional and agile for an SUV of its size.
Adaptive suspension is a standard feature on most F-Pace derivatives and it's a key contributor to the F-Pace's dynamic strength. Steering feel is reassuringly weighted – something all Jaguar owners find to be a strength on all models, and the pedal responsiveness is brisk.
Verdict                                                                 
The update of the F-Pace came at a good time, because the Jaguar's revamped interior really elevates the luxurious feel of the cabin beyond those of its direct competitors. The new infotainment system and its interface are easier to use, faster-reacting and the former now features both Android Auto and Apple Carplay compatibility.
In terms of dynamism, the British marque's executive SUV remains one of the better-handling offerings in its segment. The adaptive suspension added to the facelift – for certain derivatives, helps it to ride comfortably in most conditions. Practicality wise, it meets all the expectations of a luxury SUV of this size with a sizeable load bay, plenty of rear head and legroom.
Jaguar has added more standard equipment, tilting the price away from the average. That said, if quality and an engaging driving experience are high on your priority list than price, the F-Pace is the car for you.
Feel free to visit the Inchcape Kenya ultra-modern showroom situated at Westlands in Nairobi, Kenya, to take your own look and feel of the Jaguar F-Pace.