#4
Carole Kariuki
KEPSA CEO
Carole Kariuki's main strength is her passion for work, acumen, wit, zeal and focus in whatever she undertakes to do. She is indefatigable.
Without a doubt, KEPSA is where it is today, as Africa's foremost business think tank and high-level lobby group thanks to Carole Kariuki's singular leadership style and poise.
Among KEPSA's achievements under her stewardship are the sensitization and complete engagement on the national budgetary process; vigorous engagement with the National Treasury to facilitate the implementation of the Credit Guarantee Scheme to support MSMEs; formation of technical committees between KEPSA and KRA to continuously assisting in solving the tax administration issues as they emerge and ironing out any gray areas; deeper engagements with National and County governments and individual ministerial agencies to facilitate better business environment both for FDI and local investors, to providing necessary input through well thought out advisories on the formation of various task forces to engage the government, the private sectors and the general public.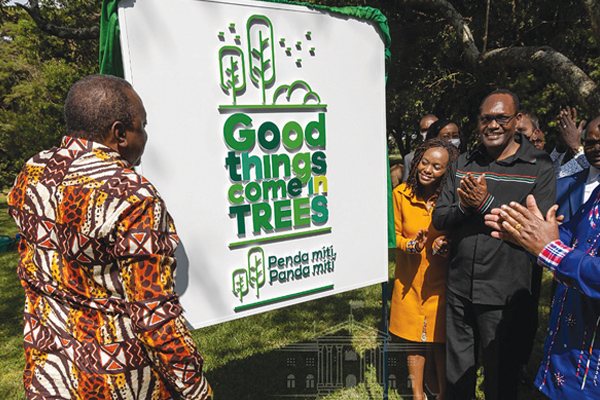 Carole's daily KEPSA menu additionally includes meeting important business delegations wanting to thumb their footprints and engage with Kenyan businesses; co-hosting important local, regional and global conferences to advance business interests and create a conducive atmosphere for trade and industry; and a myriad of other daily routine and strategic tasks. While being sometimes referred to in whispers, Carole Kariuki is never deterred or obstructed as she delivers while imprinting her name in bold through her thoroughness in execution.
Taking over as CEO when KEPSA was a mere lopsided big business body frowned upon by ordinary Kenyans, today men and women trip over themselves for a ringside position next to Carole, to serve as either an advisor, director, or board sector chair. She has made and given the board sector chairs enviable recognition that mimic those occupied by Cabinet Secretaries (CS) in their respective sectors and disciplines. KEPSA Sector board chairs are regularly consulted and sought after by all and sundry, including the government, parliament, judiciary, independent constitutional commissions, business special groups, the diplomatic community, organized NGOs and foreign visitors to the country looking for networks and business opportunities. Carole Kariuki's KEPSA is where the dance starts.
Within the first six months of 2022, Carole has shuttled all over the globe, as part of government or business delegations as well as in her private capacity when sort out. From New York to Washington; From London to Paris. From Marrakech, Morocco for the fourteenth US-Africa Business Summit and back in East Africa in time for the 22 Ordinary Summit of the East Africa Community Heads of State all in span of two weeks.
In New York, Carole presented to the UN general assembly on Mkenya Daima success on peace building as a model for the world on business and peace building and peace efforts financing.
Marrakech, Morocco, Ms Kariuki was a speaker on the success of KEPSA as an inclusive business organization for all levels and types of business and its success in integrating MSMEs into the organization, making KEPSA a global case study.
While away on national duties, Carole's fingers remain firmly on the deck, as she coordinates the various national initiatives and appearances where KEPSA's presence and contribution is expected. For instance, the important Mkenya Daima initiative on peace, transparent and credible general election engagements. These important responsibilities and duties are typical must do for this diminutive and razor-sharp transformational leader. One clear pointer has been giving clear leadership on local and global KEPSA initiatives and working with champions. Of note, is her penchant on matters gender mainstreaming for the last 12 years that culminated with the Private Sector Gender Award alongside the President Gender Award being won by HE Uhuru Kenyatta.
Carole Kariuki continues to recognize and place many business executives and leaders using her inherent skills, gifts and talents through secondment to various boards of state-owned enterprises (SOE) where these men and women are able to influence and improve the decision making, policy formation and executions to ensure improved performance, economic and social transformation and growth in these spaces. In return, her own good deeds have recently been recognized by new board appointments as a director in Jubilee Health, Nairobi Securities Exchange (NSE), the crown being her appointment by HE President Uhuru Kenyatta as Chair of Vision 2030 Delivery Board.
Through her writing columns in leading business newspapers especially the Business Daily, preparations of specialized and well researched reports, conference presentations in relevant and thematic areas, national panel in person or media discussions and workshop leadership, Carol Kariuki fires the numerous engine cylinders that enable Kenya explore its past while creating its future. In this way, she is one of the CEOS who help the country renew its buried potential.
Global highlights under her belt include speaking on behalf of the Africa private sector during TICAD 6 Nairobi 2016 in the presence of 42 heads of state and governments, and including heads of multilateral institutions like the World Bank and the AFDB, among others.
Local highlights include leading the private sector in partnership with the government in mobilizing over Ksh. 6 Bn in cash and kind for national initiatives.
Carole Kariuki holds a Bachelor of Arts Degree in Economics and Sociology from the University of Nairobi and a Master's Degree in Public Administration and International Affairs from Bowling Green State University, Ohio, USA.
On December 12 2021, HE President Uhuru Muigai Kenyatta bestowed on Carole Kariuki the national honour of the Elder of the Burning Spear (EBS) in recognition for her distinguished service to her country. In life, Carole Kariuki is inspired by the following words of Congressman John Lewis, "You are a light. You are the light. Never let anyone—any person or any force—dampen, dim or diminish your light. Study the path of others to make your way easier and more abundant. "