#3
Lina Githuka
KWAL MD
Steering a business through a period of rapid change and transformation is a daunting challenge that Lina Githuka, the Managing Director of Kenya Wine Agencies Limited (KWAL), is no stranger to. She joined KWAL as a Commercial Consultant in 2016, a time when the business was going through the process of privatization after close to five decades of being a state-owned enterprise (SOE).
Lina joined KWAL as part of a team of seasoned business leaders that were tasked with the responsibility of managing the organization's transition into a private enterprise. She initially worked as the Commercial Director in 2017 and was 18 months later tapped to serve as the Managing Director after a very competitive recruitment process, making her KWAL's first female MD.
"Our mandate as a leadership team was to re-engineer business processes and systems, enhance capability development and embed new ways of working with the team to improve performance and turnaround the business," she says. Five years later, the results speak for themselves. In the period between 2017 and 2021, KWAL's volumes doubled and its earnings increased more than tenfold, 'she notes.
KWAL's commercial success under Lina's leadership has been driven by a combination of factors, including investments behind its flagship brands, improvements in its route to market capabilities, and an increase in overall operational efficiencies.
Lina also took the bold step of renovating KWAL's brand portfolio, a big bet that can pay off handsomely but also backfire if not well managed. For example, the 2018 repositioning and relaunch of Kibao, one of KWAL's flagship vodkas, helped reestablish the brand's appeal in the market. Kibao was recognized globally as one of the Top 100 fastest growing spirit brands (IWSR, 2019).
Sh 4 billion Capital expenditure
One of the clearest signs that a company's shareholders and Board of Directors have full confidence in an MD or CEO is when they task them with the responsibility of overseeing a big-ticket investment. Under Lina's leadership, KWAL is undertaking its largest investment in more than three decades, underscoring the faith the company's board have in her.
The organization, renowned for brands such as Caprice Wine, Kibao Vodka, Viceroy, Amarula, Cellar Cask, Nederburg, Kingfisher, Altar Wine and Yatta Juice, among others, is investing up to Sh 4 billion in a new manufacturing facility in Tatu City, Kiambu County.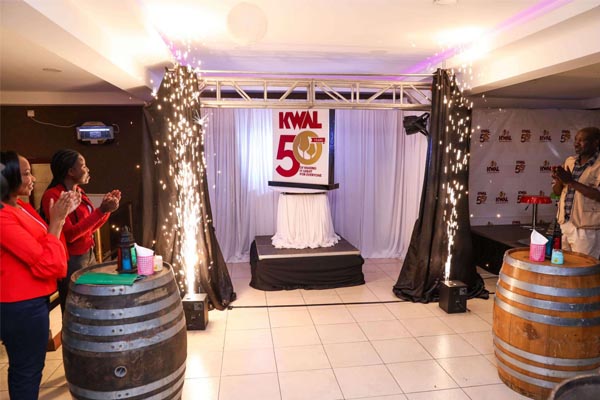 The new Greenfield factory will enhance KWAL's production capacity as well as help localize manufacturing of imported brands in its portfolio, like 4th Street and Drostdy-Hof which are currently sourced from Distell Group, the South African brewer and distiller that owns a majority stake in KWAL.
Increasing local production will enable KWAL to realize efficiencies amidst the current supply chain challenges and ensure consistency of supply, enabling it to compete more effectively. It will also support the organization in growing its exports business in the East and Central Africa region, while creating numerous skilled jobs at the site and in its value chain.
KWAL also launched cider production at its Enterprise Road premises in 2019, underlining its strategy to grow its local manufacturing capacity. The line currently produces Hunters Gold, Hunters Dry, and Savanna Cider – a very popular cider brand in Kenya.  
Strong track record
Lina's successful stint at KWAL builds on her strong track record in the Fast-Moving Consumer Goods (FMCG) sector, where she has served in senior roles in portfolio management, brand marketing, trade marketing and business development.
She started her career at Unilever Kenya in 1994 as a management trainee, a year after graduating from the University of Nairobi (UoN) with a Bachelor of Arts (BA) degree in Economics and Sociology. It is at Unilever that Lina discovered her passion for building and managing brands, creating value for consumers. She worked at Unilever for six years.
Never one to shy away from challenging but rewarding opportunities, she left Unilever and accepted a job offer at British American Tobacco (BAT) as the Group Brand Manager for Eastern Africa. Her flair for brand management and her unrelenting work ethic made her stand out and she was soon identified for an international assignment role at BAT's London Head Office in 2004, where she worked as a Senior International Brand Manager managing global brands. She later joined BAT South Africa as a Consumer Director.
Lina spent the tail end of her 16-year career with BAT in Kenya, where she took on several senior commercial roles with responsibility for the East and Central Africa market. She also served as the first local and the first female to take over the role of Head of Marketing for East and Central Africa for BAT.
Lina has attended numerous executive programmes internationally and regionally, the most recent one being a Senior Leadership Programme at the University of Stellenbosch Business School. Outside of work, Lina provides mentorship to young ladies through the Global Give Back Circle (GGBC) and the Women on Boards Network (WOBN). She is a proud alumnus of Precious Blood Riruta. She is an independent Board Director at Population Services Kenya and a committee member on the KAM Women in Manufacturing (WiM) caucus.
''My career journey has been rewarding and meaningful despite the challenges I have had to overcome. Over the years, I have come to appreciate that leadership is indeed a privilege, and an opportunity to impact not only business performance but people's development. I want to inspire young talent, especially females, to be gutsy and stop at nothing to achieve their dreams.'' Notes Lina while reflecting on her career.