#15
Melba Wasunna
BASE TITANIUM EXTERNAL AFFAIRS MANAGER
I am the External Affairs Manager at Base Titanium, the operator of Kenya's largest mineral sands mine and a flagship project under the Kenya Vision 2030 development blueprint, located in Kwale County.
My workstream ranges from leading policy discussions with key partners such as national and county government, to monitoring political and legislative developments, to ensuring the proactive management of issues that may impact our freedom to operate, to managing the company's engagements with external stakeholders such as non-governmental organizations, think tanks and research institutes, the media, and the local community. It's a dynamic role that requires prioritization, adaptability, an aptitude for teamwork and an eye for detail.
Education
I earned my Doctorate in Juridical Sciences (Law) from the Monash University in Melbourne Australia in 2014. I transitioned from my Master of Law (Human Rights) from the same institution in 2011. Australia holds a special place in my heart as I went to study there at a point in my life when I was crystal clear about the path I wanted to take in my career – driving correlation between business and social impact. I thrive at developing innovative, fact driven solutions, building the business case for social impact, enlisting buy-in for new initiatives and leading agile teams that make it happen.
I undertook my undergraduate studies at the University of Cape Town, South Africa, between 2002 and 2006. During this time, I earned my Bachelor of Arts and Humanities degree as well as a Bachelor of Law degree. I was placed on the Dean's Merit list for each year.
Before that, I attended the Moi Girls Secondary School in Nairobi, Kenya.
Academia and the public sector
Prior to joining Base Titanium in 2018, I worked in academia and the public sector. I was the Founder and Executive Director of the Strathmore Extractives Industry Centre at Strathmore University in Kenya. I served in this role between 2014 and 2016 before transitioning to becoming the Director of the Extractives Baraza at the same institution from 2016 to 2018. While at Strathmore University, I created Kenya's first Masters in Law in Oil and Gas Program in partnership with international institutions and facilitators. I also put together over 100 conferences, workshops, and events to promote dialogue and advanced understanding of the extractives industry (mining, oil, gas and energy) in Kenya. I also spearheaded and coordinated fundraising drives for local research and capacity building that resulted in multi-million donor grants from the UK Department for International Development (through Oxford Policy Management), Oxfam International, Open Society, Danish Institute of Human Rights, among other aid institutions.
I have lectured at Strathmore University, University of Nairobi, and Monash University in various capacities. I have also authored several peer-reviewed academic papers and press articles in leading publications in Kenya and globally.
Prior to my stint in academia, I worked in the public sector as the Legal Advisor and Lead Researcher to Kenya's Deputy Chief Justice in 2013 and 2014. In this role, I provided legal support directly to the Deputy Chief Justice through conducting in-depth research on matters before the Supreme Court and drafting legal opinions. One of my biggest achievements was initiating the development of the Judiciary's Sexual Harassment Policy in 2014.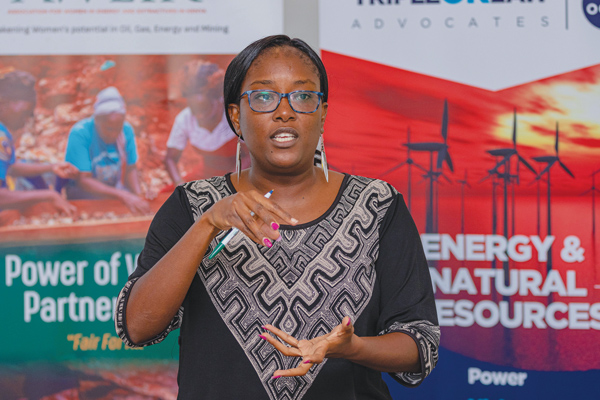 I started my career as Legal Associate at Davis Polk and Wardwell LLP, New York, USA, where I worked in mergers and acquisition, and credit department, between 2007 and 2010.
Trust and Leadership
I am the current Chairperson of the Association of Women in Energy and Extractives in Kenya (AWEIK), which I helped found in 2017. I am the current Vice Chairperson, Energy and Extractives Sector Board, Kenya Private Sector Alliance (KEPSA).
Along the way, I have earned some accolades including Upstream Oil and Gas Awards, Woman of the Year Kenya (2019), and Recipient of the "100 Global Inspirational Women in Mining (WIM100) Award (2020) and the "Africa Extractives Mentor Award", Pioneer Women in Extractives in Africa (2022). Between my work at Base Titanium and my other leadership responsibilities in the extractives sector, I enjoy travelling, cooking, and spending time with friends and family.