#10
Mwende Musunga
CEO LABOREX KENYA LIMITED
Recently appointed as Lancet Group of companies Chief Executive Officer from 21 June, 2021, occupying the corner office in one of the most strategic pharmaceutical firms in the region, Laborex Kenya, is Mwende Musunga.
Ms Musunga is one of the most skilled and experienced CEOs in the pharmaceutical industry and has been at the helm of Laborex Kenya since October 2016, having risen through the ranks from 2008 when she joined as a Sales and Marketing Manager to deputy CEO in 2014. As CEO of Laborex Kenya and its subsidiaries in Uganda and Tanzania, Mwende has been responsible for the three East African countries with an estimated annual turnover of over US $40 million.
Laborex Kenya became the first pharmaceutical distributor to receive the ISO 9001:2000 certification in Kenya, before transitioning to ISO 9001:2008 in 2011 and ISO 9001:2015 certification in 2017.  It is owned by Eurapharma, a French company that is a manufacturer and distributor of pharmaceutical products in Africa and French Overseas Territories through its 27 plus subsidiaries across Africa.  Eurapharma is the healthcare arm of the CFAO group. The CFAO group was recently acquired by Toyota Tshuso Corporation and is a key player in mobility, healthcare, consumer foods, infrastructure and energy. Its distribution network comprises 153 subsidiaries and is the largest on the African continent.
In Kenya, this means that companies such as Laborex Kenya, DT Dobie, Loxea, CFAO Kenya, Toyota Kenya and even the makers of Baraka fertilizers are part of the same group. Quite a number of cultures and business all mixed into one pot, Japanese, French, and various African cultures. "The beauty of such an environment is that you get to pick the best practices from the diverse cross section of people."
Passionate about quality practices, Mwende oversaw the transformation of the Laborex's fleet of vehicles in Kenya and Uganda to temperature-controlled vans in accordance with the Good Distribution Practices (GDP). By doing this, Laborex Kenya is leading the way in the pharmaceutical industry. "A lot of consumers of medicines take for granted the behind-the-scenes activities that go on to ensure that they have their medicines and because of this, it is imperative for Laborex Kenya to follow well laid out international best practices to ensure the patient takes safe and efficacious medicines.
According to Mwende, 'We as suppliers, cannot drop the ball, after the manufacturers of the medicines have ensured quality by the time, they release the drugs to Laborex'.
'We must play our part exceptionally well; it's our obligation to ensure quality even when no one is looking," adds Mwende. In this vein, Laborex Uganda subsidiary moved into a brand-new GDP compliant warehouse in 2019.
Recently, responsible companies such as Laborex stepped up to the plate and ensured that during times of crisis occasioned by the effects of the Covid-19 pandemic, they remained open to ensure continued service to the country. "When the Covid-19 pandemic was officially announced by WHO, followed quickly with a national curfew, two things came to mind. First, how will I make sure the hospitals and pharmacies get their medicines? Second, how will I ensure the safety of my colleagues and team, while we serve others, our fellow countrymen? Like many other leaders,' says Mwende.
She adds, 'I had sleepless nights but with single minded focus, my team came up with a plan to secure medical supplies to the pharmacies and hospitals. As a group, we developed clear directions with regards to staff; there were to be no redundancies or salary cuts for staff members. This left me unencumbered to look at other cost reduction measures to keep the company afloat and to keep our staff safe while we continued to work.''
Mwende and her team zeroed in on some areas of reducing waste, changed some ways of doing things and adopted new methods of working, including improved processes through Kaizen.
Mwende finds it interesting that many companies in the pharma industry had to terminate their employees and were running negative balance sheets. Laborex Kenya under her was not badly affected and even begun to register positive results mid-pandemic. "During this time, even though we were afraid, there was such a positive vibe and energy in the organization it really was lovely to behold. I think this came from knowing and seeing all the safety measures in place and regular communication, "she adds with a chuckle.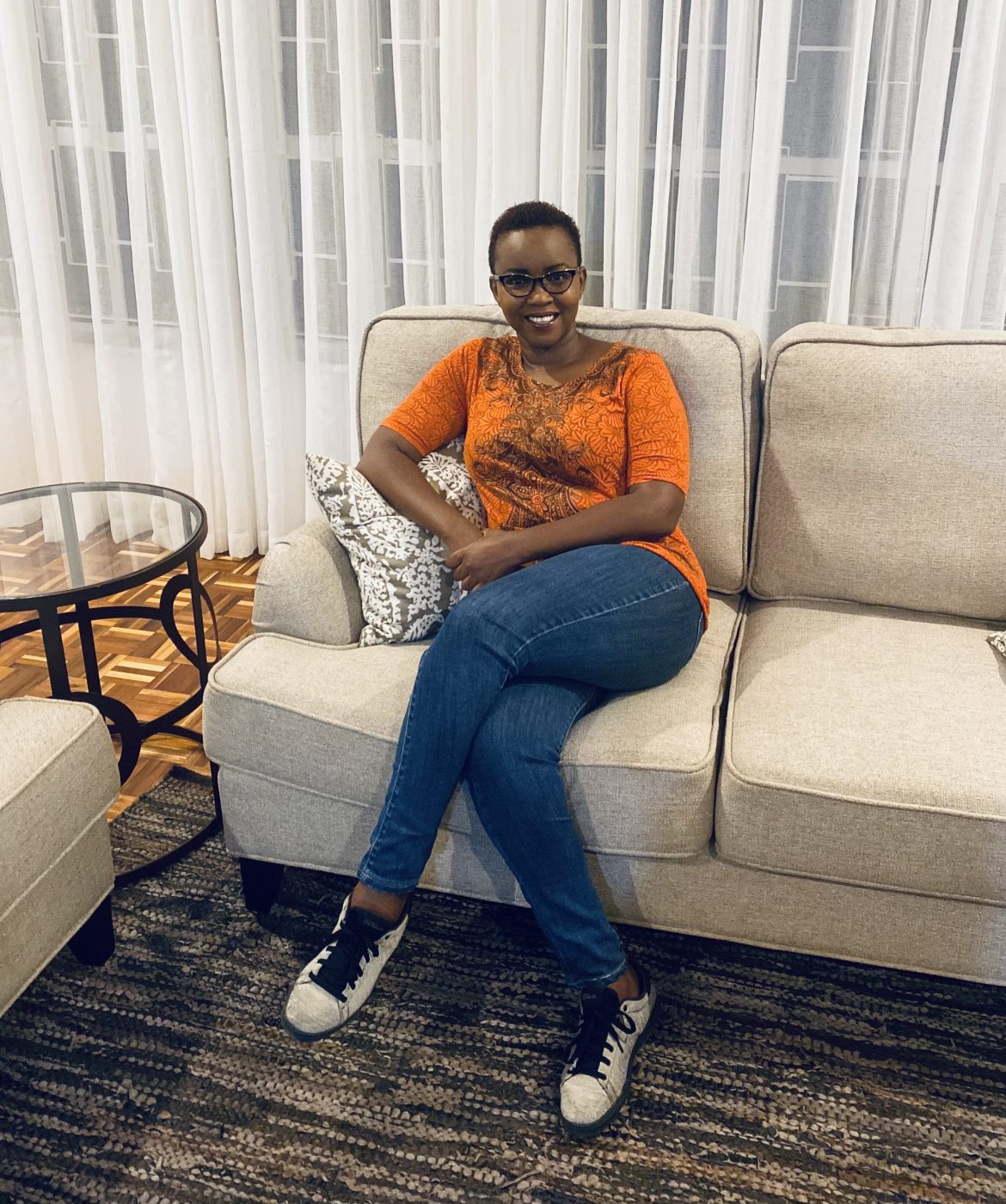 How did Mwende cope during the uncertain times caused by Covid-19? "In order to cope with the stress and anxiety of operating a business during uncertain times, I went to my default setting, my love of gardening, I enhanced my green thumb, I learnt how to graft, propagate flowers and plants and birdwatching and every so often, I would interest my boys in a bird watching fan fact. I was not always successful in raising their interest but I keep trying," she says, with a smile.
As CEO at Laborex Kenya, one of her roles is to maintain and source new business opportunities and as she exits, one of her greatest satisfaction is having ventured and steered the organisation into the medical devices space and in the distribution of FMCG goods. For instance, in 2019, Laborex Kenya signed a distributorship agreement with Medtronic, a key player in the sector. "This has been a great success and led to the introduction of other new business opportunities which sadly I will not get to see the execution but I can leave knowing I have left my team with a good pipeline of new business opportunities," she concludes.
Mwende Musunga is on course to finalising her Master's in Business Administration (MBA) at the prestigious Strathmore Business School (SBS). She holds a Bachelor of Science (B.Sc.) degree from Kenyatta University in Biochemistry.