#2
RITA KAVASHE
CHAIR OF BOARD BAT KENYA
In branding lingo, transformative brands change consumer behaviour in leaps and bounds, leading to the disruption of the world we live in. For a brand to be transformative, the disruption caused ought to be, amongst various things; positive, creating efficiencies and effectiveness, moving goal posts from the ordinary to the unique space and orientation.
Globally, BAT is one of these transformative brands and Rita Kavashe, is one of these transformative personal brands, as a Board Chair, Executive Director and business leader.
Since her entry into the boardroom at Isuzu East Africa-formerly General Motors East Africa, Rita has occupied the corner office with the gait of an accomplished and focused value adding Director.
From her personal values of integrity, forthrightness, humility, empathy, good governance; to ethical business practise in a very critical industry, Rita has conducted herself with a high degree of decorum. This leadership style has not only endeared her to her peers and the people she leads, but has also resulted in her being a sought-after woman for Boards in blue chip organisations and firms quoted on the Nairobi Security Exchange (NSE).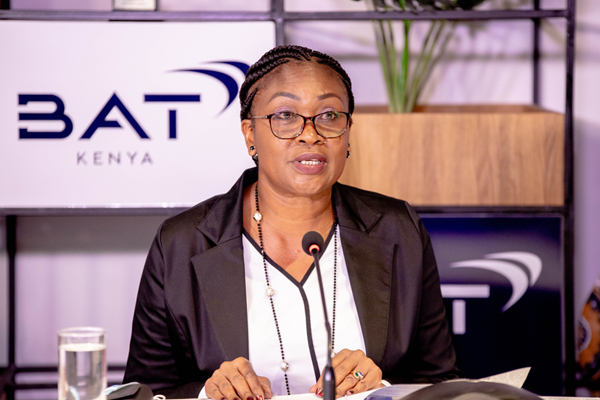 Rita has earned various honours, including an appointment as the goodwill ambassador of Women on Boards in Kenya. She is also viewed as a role model for women aspiring to join Board leadership, which is testament to her strong personal and professional brand which continues to see her scaling great heights.
It is no wonder that Rita was appointed as the first woman to Chair the Board of BAT Kenya in 2020. And, just as a transformative brand does not just deliver new products/services into the marketplace but goes beyond to deliver an around brand experience, Rita went further to identify what Boards in Kenya need, and embarked on building the Boards she chairs, driving diversity in skill sets and inclusion, which are strong tenets of modern Boards underpinned by robust corporate governance practices. While walking the talk, she has carried fellow women with her, holding their hands to achieve full potential. These is just a brief glimpse into the potential of this amiable executive from the Taita Hills.
Opening up spaces for other women on Boards has enabled her to get ahead of the current executive landscape in East Africa, while at the same time, managing to find a place for herself to stand out from the crowd. In a corporate environment where differentiation is becoming more of a challenge, Rita is managing to break the proverbial glass ceiling for young girls and at the same time, creating a critical number of future women leaders by to driving the momentum of women joining Boards and acting as a mentor to many of them.
Rita continues to exhibit transformative leadership at the helm of the Board at BAT Kenya, a global company that has a rich history and strong heritage in Kenya and the region. Her appointment, which was closely followed by that of Crispin Achola as the Company's first Kenyan Managing Director is living proof of the great strides that BAT is making in Kenya and the wider East Africa, as more and more global companies choose their top leadership from a diverse and talented pool of homegrown executives. This is a solid testimony to the maturity and high-quality local talent that BAT has developed over time.
These dual historical appointments can be contextualised as a time of significant change for BAT. Both leaders are leading the transformation of BAT's business in Kenya and the tobacco industry in general, through an evolved strategy and purpose: to build A Better TomorrowTM for their stakeholders. They have embarked on a journey to reduce the health impact of the business by offering a range of viable and responsibly marketed products in tobacco, nicotine and beyond. For consumers and the society, BAT aims to reduce the health and environmental impacts of its business; for BAT employees, they are on course to create a dynamic, inspiring and purposeful place to work. Last, and in no way the least, these formidable leaders pledge to deliver superior and sustainable returns for shareholders.
In a nutshell, BAT Kenya is becoming a business that defines itself not by the products it sells but by the consumer needs it meets. And while reducing the harm related to its business is its primary focus, BAT understands its impact, the importance of high standards of integrity and the resultant evolving societal responsibilities. The Company is therefore is moving from a business where sustainability has always been important, to one where it is front and centre in all that it does. In this regard, BAT remains committed to addressing the environmental impact of its business, delivering a positive social impact and ensuring robust corporate governance across the business, through a robust Environment, Social and Governance (ESG) agenda.
"I am determined to see Kenya and the region, benefit from BAT's evolved strategy and the possibilities it brings."
Rita grew up in Taita Taveta County, in South-eastern Kenya. "I did not imagine I would be where I am, not at all," she says, adding that while growing up, her father instilled in her the virtues of creating and nurturing relationships, making a positive impression, working hard and, when in a position of leadership, serving with dedication.
Going by the performance of Isuzu East Africa, the lessons from her father have borne fruit. Today, Rita is at the helm of the biggest auto assembler in East and Central Africa, with a market share of over 46 per cent, up from 15 per cent when she took over as the Managing Director of the then General Motors East Africa in 2010.
Rita holds a bachelor's degree in Education from Moi University and Master's degree in Business Administration (MBA) from the University of Nairobi (UoN). She also attended the prestigious Harvard Business School leadership programme in 2013, sponsored by General Motors US as part of their executive development programme.
Rita also serves as Chair of Board of Bamburi Cement and sits on the Kenya Vision 2030 Delivery Board and the University of Eldoret Endowment Trust Board of Trustees.
She is an executive coach certified by the Academy of Executive Coaches (AOEC), UK, a credential that supports her mentorship of many upcoming and serving executives.
In 2017, HE the President of Kenya, Uhuru Kenyatta awarded Rita the Moran of the Order of the Burning Spear (MBS), for exemplary service to the country as a business leader; an award bestowed on her personally by the President at State House.