#1
Shaka Kariuki
CHAIRMAN OF BOARD TRANSCENTURY GROUP
"No is never a final answer." Many may beg to differ with this thought but not one Shaka Kariuki. Shaka believes that even as challenges and obstacles present themselves in life's journey, there is always a solution, a way out and this has helped him in steering companies as he takes them to the next level.
Prior to 2017, many in Kenya had not heard of Shaka Kariuki until Kuramo Capital, a company he co-founded and is the Co-Chief Executive Officer, invested US$ 20 million in TransCentury PLC acquiring a 24.9% stake in the listed investment company.
Shaka wears many hats. Apart from being the Group Chairman of TransCentury PLC, he is also the Chairman at NAS Foods Plc in Ethiopia, and Vice Chairman of GenAfrica. In addition, Shaka sits on the Board of Directors at BYU Marriott School of Management in the United States of America, Leon Business Solution in Zimbabwe, Amed in South Africa, to name only a handful.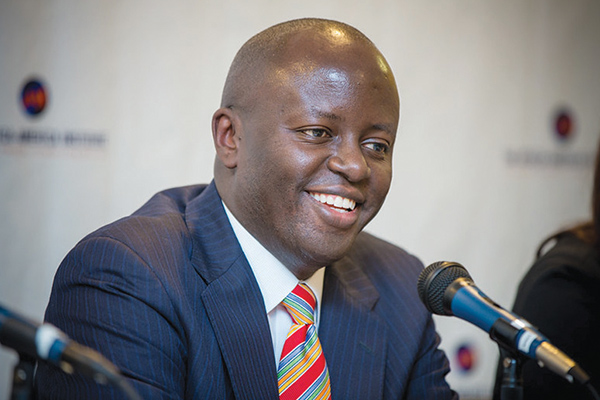 For the last 25 years, Mr Kariuki has been working in global finance and global private equity with a focus on sub-Saharan Africa (SSA), a region he is ecstatic about. Ten years back, Shaka already believed that Africa would be the next frontier for new business. More importantly, he was confident that investing in Africa not only spurs growth for the businesses but has a significant ripple effect on the communities and its people, the new textbook thinking for good business: value creation for all the stakeholders.
In 2017, TransCentury PLC was facing challenges that had significantly slowed its growth. This did not deter Kuramo from investing in the group. The experience that Mr Kariuki has garnered over the years gave him confidence that these were just some of the cycles all businesses go through.
On joining the Board and taking up the Chairman position, Shaka was clear on the key levers that needed to be focussed on. Topping the list was strengthening the Group's Corporate Governance. This involved the development of a robust Corporate Governance structure which included reconstitution of Boards both at Group and at subsidiary levels, and ensuring diversity in skill set, industry knowledge and board experience.
Further, reserve matters on key areas were instituted which include amendment in capital structure, capital allocation, appointment of key management and business strategy. The Group is currently focussed on fund raising having sufficiently prepared the business to receive and efficiently absorb funding. In line with this, Shaka is delighted at the recently launched Rights Issue whose objective is to provide TransCentury underlying business the much-needed working capital.
The investment in TransCentury remains very promising and Shaka is bullish at the prospects that the infrastructure space provides, in addition to the opportunities in SSA whose infrastructure still displays under penetration and inefficiency; hence a priority for all major governments in the region.
Shaka believes solutions to such challenges rest in having a clear strategy, good corporate governance, and a longer-term view, and this is the direction he has steered TransCentury in, as the Chairman of the Board.
The opportunities that Africa provides especially in the key sectors of Energy, Transport, Water and Agriculture which are TransCentury's focus sectors, coupled with the skill and resilience that the population exhibits create a great platform for investments. In addition, the macro environment promises an even brighter future, with all the key factors trending above the world. It is this environment that drives Shaka, ensuring the great businesses in this region are sufficiently capitalised, spurring growth, job opportunities and overall wealth creation. As an African, he believes no one else is best suited to deal with the challenges that Africa faces than Africans. "We best know where the shoe pinches most, we understand our needs, our environment and our business terrain."
Kuramo Capital, a company that Shaka co-founded together with two other partners 10 years ago, prides itself as Africa's leading independent multi-asset class Investment Manager. Kuramo raises funds from endowments and foundations in the West and then invests in lucrative opportunities across SSA. Currently, it boasts of over thirty investments across the region with a portfolio worth over $500M. Away from Kenya, Kuramo has investments in Ethiopia, DRC Congo, Zimbabwe, Ghana and Nigeria
The great bankable business ideas developed by Africans for Africa that he gets to see and
hear every day keep him fuelled to raise funds and deploy the capital where it is much
needed.
Shaka is an alumnus of Jamhuri High School before moving to the US for his undergraduate at Brigham Young University, and postgraduate at Harvard University. On completing his education, he got the opportunity to serve in leadership positions of leading companies in the US, including at the $9 billion Deseret Mutual Benefit Administrators (DMBA) as a Portfolio Manager of Global Private Equity, Head of Fixed Income and Head of Emerging Markets across asset classes.
According to Wanjuki Muchemi, a fellow Director at TransCentury, Shaka is a great listener. "This is an amazing trait for a Board Chairman. He also accommodates diverse opinions on matters and is quite approachable, impartial and objective." Wanjuki Muchemi is a former Solicitor General of the Republic of Kenya.
Shaka Kariuki also headed the investment efforts of DMBA Affiliates in Developed and Emerging Markets (UK, Canada, New Zealand, Australia, Philippines, Samoa), including Africa. Prior to DMBA, Shaka was a Senior Member of the Global Finance team at Agilent Technologies where he managed finance teams in Asia, Europe, Japan and USA. Prior to Agilent, Shaka was an Associate in the Investment Banking Division of First Security Van Kasper and spent some time at Choice Hotels International in the mergers and acquisitions department.
Shaka enjoys mountain climbing having conquered Mt. Kilimanjaro and Mt. Diablo in California and has participated in the New York marathon among others. When time allows, Shaka enjoys a game of golf and dancing.