#6
Ashok Shah
CEO APA APOLLO GROUP
Apollo Group is a one-stop financial services company offering innovative products and services in insurance, pensions and investments. It operates as Apollo Investments Limited, an idea born from the need to harness synergies across the finance services industry, originally starting in insurance business.
The Group was established in 1977, the brainchild of the Kingston University educated chartered insurer Ashok Shah. The rest are details.
Ashok Shah started his insurance career in the UK working with an insurance broker, specializing in Life Insurance and Home Mortgages.
Having come back to Kenya in 1975 for a short holiday, circumstances changed making Ashok to stay on. In 1977, Apollo Insurance was established, by Shashi Shah and Ashok got involved in General Insurance and Reinsurance. 'I had to learn both underwriting and reinsurance of General Insurance classes in order to excel in my work' Ashok states.
Thanks to the vision and leadership of Ashok Shah, Apollo Group has achieved impressive growth over the years due to the sterling service levels given by the employees and their unwavering commitment to service, the confidence of the policy holders and constant adherence to sound management policy underpinned under good corporate governance principles and best practices.
Under Ashok Shah, Apollo Group continue to be built on and operates under the tenets of commitment, integrity and innovation. These three have seen the Group evolve to be one of the most respected, sought after and leading providers of insurance and financial services in East Africa.
The Group comprises of APA Insurance Kenya and Uganda, APA Life Assurance, Apollo Asset Management and Gordon Court; with shareholding in Reliance Insurance in Tanzania.
Apollo Group's flagship is APA Insurance Kenya, is the product of the merger of Apollo Insurance Company and Pan Africa Insurance. With a combined experience of over 100 years (Pan Africa-1946 and Apollo-1977) APA has become the largest insurance firm in Kenya and the most innovative in product offering.
APA Insurance Kenya, the flagship company, underwrites some of the most comprehensive and inclusive General Insurance risks such as Motor, Property, Aviation, Agriculture, Marine, and Micro Insurance. APA Insurance underwrite some of the most progressive, comprehensive, all-inclusive individual and family health insurance in the country, especially and not limited to full COVID-19 disease coverage. These comprehensive insurance products provide APA customers with peace of mind, helping both businesses and individuals to return to the same standing following a loss or other unfortunate events or occurrences.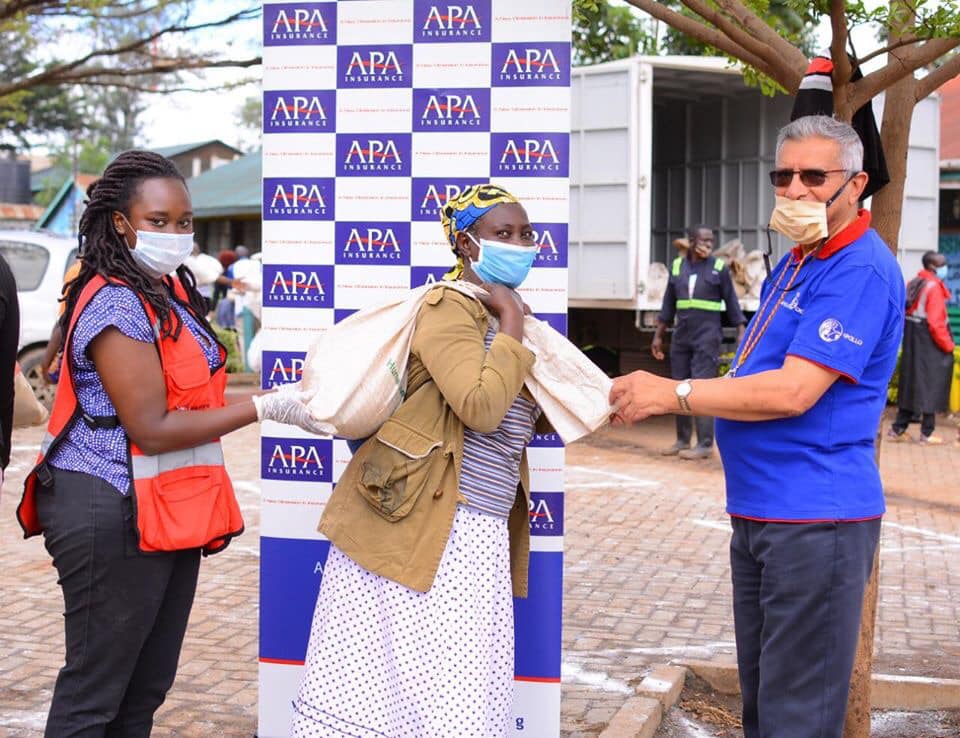 APA Insurance Uganda, the Group's wholly-owned subsidiary underwrites General and Health Insurance. The firm's market share and ranking has improved and the firm has been recognised for Best Claims Service by the insurance industry in that neighbouring country.
APA Life Assurance is one of the leading insurance companies in Kenya, providing Life Insurance and Pension Benefits. It has been recognised as the Best Insurance Company in Claims Settlement (Life Business). The products include Employee Benefits such as Group Life Assurance, Last Expense, Disability Cover and Individual Pension Plans. APA Life also provide Unit Linked Investment Plans and Education Plans, Wealth builder, a capital growth plan, Income Draw Down, an alternative to life time annuity purchase, among many others.
Apollo Asset Management Company (AAMC) is focused exclusively on meeting the needs of institutional investors like pension schemes, SACCO's, and High Net Worth investors and their families. AAMC is licensed by the Capital Markets Authority (CMA) and the Retirement Benefits Authority (RBA) to conduct Fund Management and Investment Advisory Services
APOLLO CENTRE: Is wholly owned by Gordon Court Limited, a subsidiary of the group. It is a commercial building situated in the Westlands area of Nairobi. Besides being the Group headquarters, Apollo Centre offers modern conference facilities including private meeting rooms and custom-designed training rooms fitted with state-of-the-art equipment. The facility is popular with several corporates and individual clients due to its exclusivity and convenience.
Under Ashok Shah, APA continue to be recognized, awarded and celebrated by the media and numerous other institutions. These include:
Paid Kshs 1.97 B (US$26m) to Kenya Airports Authority in record time of 6 months for the fire at Jomo Kenyatta International Airport (JKIA).
Best in Claim Settlement (Life and General).
Best in Fraud Detection & Prevention.
Best in Customer Satisfaction.
Best in Corporate Social Responsibility.
Lead insurer for the Agriculture Consortium of Insurance Companies for Government Sponsored Agri-Livestock Insurance.
Environmental champions through tree planting and dam building. We are friends of Karura, Sponsors of Mau Run to Create Environmental Awareness, raising funds for rehabilitation of Njoro River and Mau ecosystem and winners of Total Eco-Challenge – Tree Planting Champion.
These accolades are as a result of specific building blocks in place at APA. According to Ashok Shah and quoting the words verbatim, the building blocks are that at Apollo Group, 'we are committed to the continuous improvement of our service to you, ensuring we are always ready to listen, help and advise you'. The building blocks are:
The firm is backed by a strong financial base. Partnering with Swiss Re provides for a strong financial backing that enables us to deliver on our brand promise.
Our products and services are well known and respected in the market. We have built our reputation through hard work, good and reputable services.
The customer is the focus of our attention. Each account is assigned to a Relationship Officer who ensures that personalised and professional service is given.
We tailor-make our products and services with flexibility, to provide capacity and protection to retail and corporate customers to enable them to manage their risks.
Our premiums are economical, offers value for money and affordable.
Our procedures for claims settlement are clear and transparent. We pride ourselves with a fast claim turnaround time to ensure rapid settlement.
It's hard to tell the story of APA without mentioning Apollo Group's CEO Ashok Shah. The history of the two brands, APA and Ashok Shah, are intertwined. It is an inspiring story of how APA has been shaking up and disrupting the insurance industry through business innovation, and customer-guided insurance products, led by Ashok, as he is affectionately known. It's a story scripted by genuine customer needs, industry gaps, a creative workforce and most of all, APA's desire to provide value.
Ashok and the Group's many accolades include:
First Recipient of Life Time Achievement award (2010)
Winner European Microfinance award (2019) (Strengthening Resilience to Climate Change)
EY Entrepreneur of the year EA qualifier
AABLA Entrepreneur of the year East Africa winner
AABLA Entrepreneur of the year Africa qualifier
AABLA Philanthropist of the year EA
Meaningful Business 100 – 2021
All these awards and commendations come from both the professional and social work done by Ashok and the APA Apollo foundation. The foundation through Ashok's drive supports Water, Environment, Education and Youth.
The water agenda has seen construction of over 30 Sand Dams in Kenya's Arid and Semi-Arid areas. The dams bring water to the doorsteps of the communities all year round. The greatest benefit is to the women and children who had to walk 6 -7 km, everyday to fetch water. They now can attend to the household chores and children attend school in time.
Education support is through full scholarships for secondary school given to the best students who get the highest result in the national primary exams.
According to The 2021 Meaningful Business 100 EY, Ashok Shah is, 'A leader recognised for combining profit and purpose to help achieve the UN Global Goals. Ashok Shah is cited for: Financial Services and Economic Growth, in this recognition by Meaningful Business. The awards are sponsored by Ernst & Young (EY), a leading Global Professional Services firm, whose tagline is 'Building a better working world'.
The 2021 Meaningful Business 100 (MB) are an outstanding group of leaders who are dedicating their work to tackling the world's most pressing issues and help achieve the UN Global Goals. The individuals hail from 33 countries and comprise corporate CEOs, entrepreneurs, sustainability leaders and impact investors, representing the best of what business, entrepreneurship and social innovation can be.
Curated by an expert panel of 21 judges, the winners are scored across five key areas: Impact, Leadership, Innovation, Durability and Scope.
Ashok Shah is therefore, and rightly so, recognized as one of The 2022 Top 25 Most Influential CEOs Impacting Business, by Business Monthly East Africa magazine, an accolade he receives for a second year in a row.