#15
NATION MEDIA GROUP
The Nation Media Group (NMG) was founded in 1959 by the esteemed Aga Khan on the underpinning of a set of core values whose principal theme was and still is to promote independent voices, diversity and freedom of expression.
Today, NMG is a mover and shaker in matters of media and entertainment. With businesses in television networks, film and TV entertainment, NMG uses its industry-leading operating scale and brands to create, package and deliver high-quality content on a multi-platform basis.
The largest independent media house in East and Central Africa, NMG attracts and serves unique audiences in Kenya, Uganda, Tanzania and Rwanda.
As a revered brand, NMG is committed to generating and creating content that informs, educates and entertains its consumers across the different platforms, keeping in mind the changing needs and trends in the industry. To the media giant, nothing matters more in its journey than the integrity, transparency and balance in journalism that it has publicly committed itself to. NMG journalism aims to positively transform the society it serves, by influencing social, economic and political progress.
Financial expert Stephen Gitagama sits as Chief Executive Officer (CEO) of the Group. He serves as Director of the Group's subsidiary companies, and is a member of the Strategy & Investments, Nominations & Governance, and Editorial committees. NMG holds a proud digital footprint of over 51 million users, with a presence on social media platforms including Facebook (19.4 million users), Twitter (15.3 million users), Instagram (3.6 million users), Youtube (4.6 million users) and the Group's website (8.1 million users).
By the end of 2021, NMG posted an impressive turnover of Ksh 7.6 billion and a profit before tax of Ksh 730 million. In line with the global obligation for corporations to align themselves against environmental, social and governance protocols (ESG), NMG is on a journey of examining its impact on society across ESG while partnering with like-minded institutions to drive this agenda.
NMG provides platforms to convene critical discussions and disseminate information to enable businesses in Kenya, the region and the continent to operate with purpose and adopt sustainable business practices. It is this resolve that drove NMG to be a member of the United Nations Global Compact Network (UNGC) Kenya.
NMG is committed to driving sustainable practices within its operations to deal with societal issues while also galvanising support from other corporates by driving awareness and adoption of the UN Sustainable Development Goals (UN SDGs) across its print, digital and broadcast platforms.
Towards the achievement of Good Health and Wellbeing (SDG #3), NMG contributes through the circulation of information via its various platforms, with niche products. These products include: Healthy Nation, the company's weekly newspaper pull out, and Healthy Diary, a weekly television (TV) show aimed at creating awareness around health issues.
The organisation runs periodic campaigns, such as the Fibroids Awareness Campaign that was driven by the Editorial team at Daily Monitor in Uganda. The team at Monitor Publications Limited (MPL) in Kampala, Uganda also conducted a fundraising drive in October 2021, in partnership with the Uganda Cancer Institute (UCI) to raise money for child cancer treatment.
With regard to promoting Quality Education (SDG #4), the Group runs the Newspapers in Education (NiE) program. The core objective of NiE is to grow the reading and retention of content in the digital age, through the provision of English and Kiswahili language newspapers to schools to give students access to diverse daily content. Currently, 183 schools are subscribed to the program, receiving a total of 107,632 copies of the Daily Nation and the Taifa Leo each school week. The allocation of these newspapers in secondary schools has served to develop the languages among the students and drive their average grade from C-plain to B-plain in the last academic year.
In 2021, NMG in partnership with Bata Shoe Company PLC, Ramrod Tanks Limited, Giants of Nairobi Twiga & Shree Vanik contributed over Ksh 10 million worth of items to primary schools and children's homes in Nairobi, Kwale, Mombasa, Nakuru and Eldoret counties, impacting over 5,800 pupils.
To advance a sense of community, while aiding the fight against hunger (SDG #2, Zero Hunger), the women of Mwananchi Communications Limited (MCL) in Tanzania celebrated International Women's Day by visiting the Yoco Orphanage. The ladies donated clothing and food items, as well as spent time with the children at the centre.
During the 2022 International Women's Day, NMG CEO Stephen Gitagama committed to growing female representation in the workplace to 50 percent from the current 30 percent. The event, officiated by Chief Justice (CJ) Martha Koome and attended by various corporate female leaders, called for efforts to remove barriers that hinder women from socio-economic growth. NTV leads with the number of female employees in NMG at 45 percent, while women constitute 38 percent of the senior management, one percent above the national average. Gitagama's pledge to improve the gender parity of the organisation is in tune with SDG #5, Gender Equality and Women Empowerment.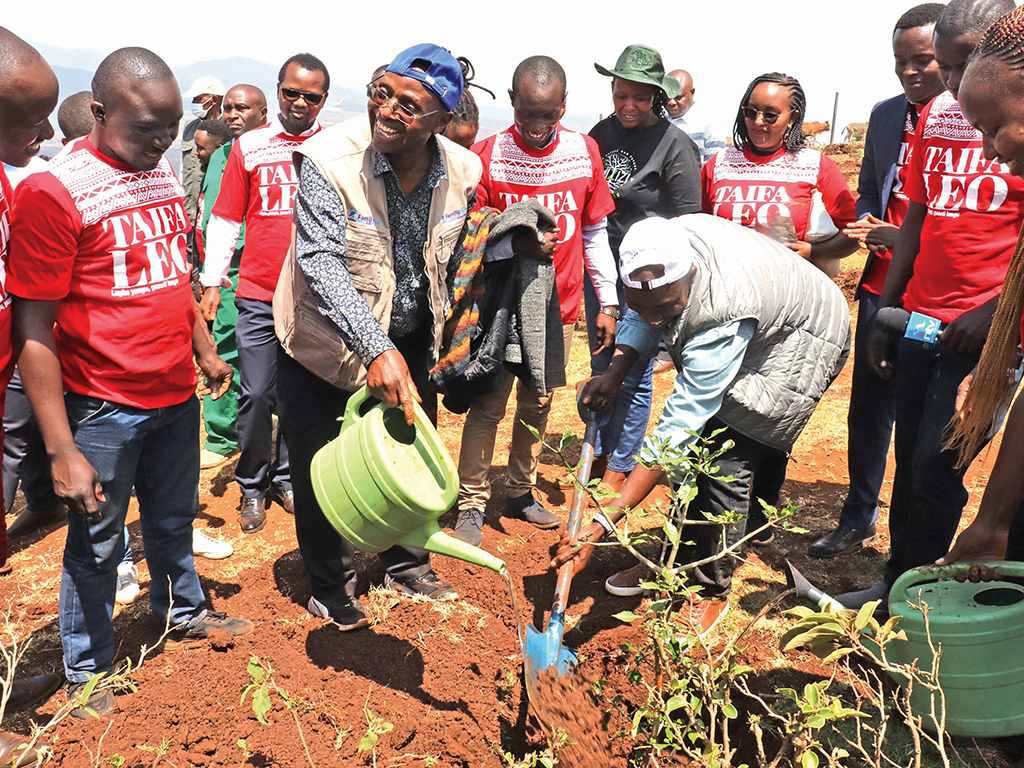 Over the years, NMG has taken measures to maximise its energy efficiency, with a hybrid of clean energy and traditional sources utilised to drive a sustainable mix of power sources. This has seen a 14.6 percent reduction in energy used, which has in turn resulted in a 7.9 percent decrease in the total electricity bills at the printing plant since 2019. In this regard, the NMG printing plant has put systems in place to monitor newsprint consumption, waste generation and control contaminated press waste such as inks, oils and water, in a bid to reduce the environmental impact from its production processes. This is line with SDG #7, Affordable and Clean Energy, as well as SDG #12, Responsible Consumption and Production.
Corresponding to SDG #6, Clean Water and Sanitation, NMG has entered into a partnership with Aquavita Limited, an East African company that provides eco-friendly, safe and cost-effective drinking water to workplaces through sustainable Point of Use Water Dispensers. This partnership has contributed to the organisation's journey to reduce its environmental footprint by decreasing its use of plastic by over 90,000 disposable cups in 2021, also in accordance with SDG #15, Life on Land.
The 2021 World Environment Day, marked on 5th June, was themed "Ecosystem Restoration", sought to engage and drive action by Governments, businesses and citizens to address environmental issues, corresponding to both SDG #13, Climate Action, and SDG #15. To mark the day, NMG hosted key Government officials, partners and members of staff at a ceremony at its Printing Plant, where the organisation planted trees in an effort to play its role in driving the 10 percent forest cover in Kenya. NMG also conducted tree planting activities at Kipkorosyo Primary School and Mafisini Primary School to entrench environmental sustainability among children.
In terms of corporate governance, NMG is in compliance with the provisions of the Capital Markets Act- Code of Corporate Governance Practices for Issuers of Securities to the Public, 2015. Over one third of the Board of Directors are independent and non-executive directors.
Nation Media Group remains steadfast in the conviction of its goal to fundamentally improve the quality of people's lives and to contribute to a sustainable world through its business, hence positioning itself as the Media of Africa, for Africa.