#7
KENYA AIRWAYS (KQ)
THE PRIDE OF AFRICA
The current Group CEO at Kenya Airways Plc, Allan Kilavuka, took to the helm of the Pride of Africa on the 2nd of January 2020. According to Allan, only 18 months into the job, KQ, in the keen eyes of any honest analytical well-intentioned person, has a great future ahead.
'We have many highly talented individuals working tirelessly to ensure that the Airline's future is sustainable and in good hands. These signals hope. KQ has world-class facilities developed to meet the emerging market requirements and advancements in technology. These are to build business resilience and ensure that the Airline remains one of the most competitive in the region.'. Allan posits that KQ is one of the few long-standing African carriers that has pioneered key achievements in the African aviation industry.'
KQ remains a strong brand locally, regionally and globally. It has, however, recently gone through some turbulence, like any other national airline, in financial performance, occasioning brand to undergone some challenging times. One of the most notable concerns was the subsequent deterioration of KQ's previously enviable customer handling and retention. As a result, numerous customer complaints were pouring in. According to the Group CEO, this could only mean two things; one, KQ customers care enough to tell the airline where KQ needed to improve. Secondly, KQ needed to ensure that the airline considered all the customer complaints, and improved the flying experiences in order to be seamless, memorable and enjoyable as before, when everybody referred the airline as the Pride of Africa'. 
As a turnaround strategy, the Group CEO affirms that, 'Customer centricity stands prominently as one of our fundamental values. We are making efforts to live up to it. We are striving to deliver a consistently 'delightful experience with a caring African touch.' 
According to Allan, other concerns include strengthening KQ's efficiency and optimising the operating costs to ultimately move to a breakeven point.
'We started our reform agenda in earnest with a lot of optimism and made significant strides. Then in February 2020, nine countries in our Africa network and the UAE and India announced travel restrictions following the continued spread of the SARs CoV 2 virus that was causing Covid-19 disease. In effect, these travel restrictions suddenly reduced our network by 65 per cent. From thereon, the situation was deteriorating by the hour, and our passenger numbers were dropping and dwindling by the minute,' he adds.
'Eventually, the inevitable happened; for the first time in our history, we paused our international flights in April and parked 32 out of our 34-passenger aircraft fleet. This action is equivalent to stopping the sale of your top brand for a year. Our 'top brand' being flights during our peak season, ours runs from June to August. It is during this period that most airlines turn a profit. Consequently, the next 4 months were challenging for us because our engines were cold and quiet, eventually leading us to the difficult but necessary road of survival. The impact of this lull was a 90 per cent hole in our revenue,' Allan narrates.
'We made every effort to conserve cash and ensure the Airline's survival. This entailed instituting pay cuts, scaling down on any cash negative operations and negotiating discounts on aircraft loans and lease rentals. We looked for every opportunity to raise revenue, signed up the few charter flight opportunities we could find, and vigorously pursued opportunities in Cargo,' the story continues.
Allan says that on the flip side, the pause in activities gave management time to reflect on the future of Kenya Airways and how to emerge even stronger, better, and more focused on the other side of the crisis.
In August 2020, international passenger flights resumed and KQ could breathe a collective sigh of relief. As anticipated, KQ's return to the skies was bound to be gradual despite an early surge of pent-up demand. As such, KQ was operating at a reduced scale with an extremely lean network. This reality led to the rightsizing of the airline's operations, a painful but necessary action.
Approximately 70 per cent of total passengers carried in 2020 were flown during the first three months of the year, demonstrating the drop in demand as the global crisis deepened during the year. In 2019, KQ had celebrated the highest ever passenger haul that had now dropped by over 60 per cent to 2.4 million. Like all airlines in the world, KQ reported record losses in 2020, a record forced on it by the raging effects of the Covid-19 pandemic.
'Of necessity, things will never be the same again. There is no silver bullet, other than to focus on a few essential actions that we believe will put the Airline on the long road to recovery. We will continue to focus on our customers by ensuring that we understand them and align our products and services to suit their needs and address the end-to-end experience through the customer journey. To achieve this, we are revamping our digital platforms and re-training our employees. For instance, we have relaunched our Contact Centre and renamed it the Customer Excellence Centre,' adds Allan.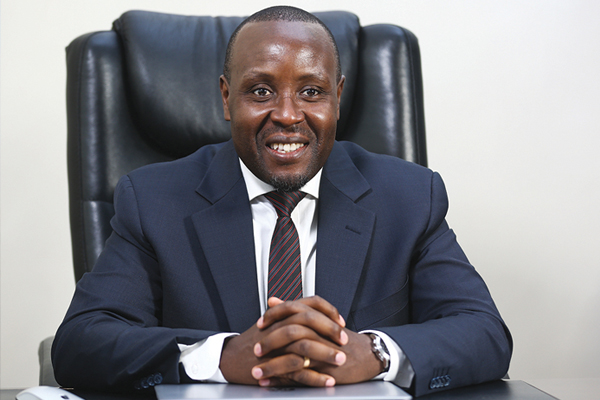 'We are diversifying our business to ensure that we build a resilient business that can stand the test of time. Top on the diversification strategy is the growth of our cargo business. We want to grow and ensure that it contributes to 20 per cent of the overall business. In December of 2020, we launched the world's first B787 Preighter, which increased dedicated cargo capacity by 126 tonnes per week. We will also expand our maintenance offering to third parties and have so far signed 7 new customers. We will also get into the unmanned aircraft space (drones) by leveraging our heritage, legacy, and experience of over 44 years in manned aviation,'' opines Allan on KQ's recovery trajectory.
'When we were grappling with how to survive and move forward, we challenged employees during an ideation process and got back no less than 700 ideas which we are working to implement. We are now working to entrench this culture of innovation, having launched the Fahari Innovation Hub, a business innovation and incubation centre that allows for accelerated transformation of ideas into sustainable business opportunities. KQ is the only Airline that has developed such an aviation hub in Africa.'

Allan states.
As we stepped into 2021, the realisation that customer service excellence and a diversified product portfolio would be the most critical factors for our survival informed our Financial Year (FY) 2021 themes. These themes will drive all our initiatives and activities under our 5 strategic objectives, which are vital to building a cost-efficient and resilient airline business.
Financial Stability is critical–improving our revenue, containing costs, and conserving cash. We are also working towards securing funding to bridge the current shortfall.
With all that is going on, we must focus on our people. We are improving employee safety and wellbeing and aligning the post-Covid-19 Pandemic network with the requisite human resources and skills.
'At the moment, we acknowledge that there are many moving parts, and the situation is constantly evolving. Our aim is to keep the main thing the main thing. I remain cautiously optimistic about a brighter future. But first, we need to get over this hump.' concludes Allan Kilavuka.
The Kenya Airways Board of Directors appointed Allan Kilavuka as Group Managing Director and Chief Executive Officer, taking over on April 1, 2020. Upon his appointment, the KQ Board Chairman, Michael Joseph had the following to say of Allan: "It is particularly gratifying to me that the Board agreed to support the appointment of Allan to the full role of substantive CEO. During his short time as acting CEO of KQ, Allan has thrown all his energy into this role, whilst still maintaining his position of CEO of Jambojet."
"He also has proven success in new organization setups, change management, financial planning, process improvement and responsible strategic leadership." Michael Joseph added.
Kilavuka has extensive experience of over 24 years in strategy, business development, business process improvement, financial leadership and strategy, people leadership, offshoring, controllership & compliance, business start-ups, process design and Financial Planning and Analysis.
Prior to his appointment as the CEO of Jambojet, Allan was the Global Operations lead at GE Africa for 3 years and 5 months (2015-2018) in Nairobi, he also served as Commercial Financial Lead at GE Africa in Johannesburg, South Africa for 1 year and 2 months (2014-2015). Kilavuka holds a Bachelor of Commerce degree from the University of Nairobi and a Postgraduate Certificate in Psychology from the University of Liverpool. Allan has trained at General Electric's World Class Crotonville Leadership Institute in New York, us in Executive Leadership, Advanced Management and Financial Management.