#4
ISUZU
MADE FROM HISTORY
Isuzu as a motor brand is a global automotive business, founded and headquartered in Tokyo, Japan since 1937. Isuzu Motors East Africa was established on 1 January 2018, after the name change in 2017 from General Motors East Africa to Isuzu Motors East Africa, when Isuzu Motors of Japan acquired 57.7 per cent shareholding from General Motors. Local shareholdings are 37.8 per cent through ICDC and Centum. 4.5 per cent is owned by Itochu Corporation, a Japanese trading company.
Isuzu is the first manufacturing and distribution organisation outside of Japan where Isuzu has a 100 per cent ownership. It serves as an important base for Isuzu's long-term growth throughout Africa. Following the 80-year long journey of Isuzu, the brand has lived true to its vision to create pickups and trucks that serve the people who drive them. The high quality, reliability and long life has been at the core of what Isuzu manufactures and assembles since its inception.
In 2016, Isuzu recorded market share of 35.1 per cent, taking market leadership for the 5th consecutive year. Isuzu East Africa (Isuzu EA) is driven by a strong desire to provide transport solutions to the customers' dynamic needs as demonstrated through the firm's transformation into a "Trusted Logistics Partner" for the customers.
Isuzu EA has been the leading local vehicle assembler in Kenya for the last nine years in a row with over 95 per cent of sales in the light and heavy commercial vehicles segment. In 2020, the company closed the year with a historic 45.4 per cent market share of new vehicles sold in the country.
This success has been driven by the outstanding support of customers and business partners who continue to demonstrate confidence in Isuzu's enduring legacy. Production Isuzu EA's Assembly Plant on Mombasa Road has a capacity of 14,000 units per year and employs in excess of 5,000 people along the entire Isuzu eco system. The Isuzu brand has attained strong leadership in the market, having assembled over 100,000 units since the first Isuzu vehicle rolled out of its Nairobi assembly plant in 1977. "We are greatly honoured and very proud of the Isuzu fraternity that has supported the business to date and propelled us to the number one position in the market with 45.4 per cent market share in 2020," said Rita Kavashe, Isuzu
EA MD on the occasion of handing out the 100,000 Isuzu vehicle assembled since 1977 to the lucky customer. She added, 'Isuzu EA assembles and sells approximately 5,000 units of assorted trucks and light commercial vehicles annually.
The FVZ is a popular heavy commercial truck that is versatile and adaptable to different customer needs. Rolling out the 100,000th vehicle from our production line is a demonstration of the huge vote of confidence that our customers have in Isuzu products. This achievement will remain etched in the history of the Isuzu fraternity for many years to come."
Isuzu vehicles offer various benefits including fuel economy, low cost of ownership, unrivalled performance, good ground clearance and flexibility to suit customer requirements. In addition, Isuzu has developed a robust Aftersales network to support its customers in the private and public sectors, to ensure their vehicles continue to deliver optimum performance across the region.
Isuzu buses
This is one of the top brands from Isuzu. In the city, in the country side, from home to work, ferrying students, employees and the general public, the bus of first choice is Isuzu. For whatever the destination, The 100,000th Isuzu vehicle unveil. whoever the passengers, when it comes to
reliable and dependable transportation, one bus features prominently as the number one choice…the ISUZU bus. The powerful, low emission engines and amazingly low fuel consumption and engine combustion efficiency make the Isuzu buses environmentally friendly. It is available in a number of derivatives, including as a 25-seater, 29-seater, 33-seater, 37-seater, 46-seater and the long-haul King of the Road, the 67-seater.
Customers
Isuzu is a leader in transportation, earning customers for life and improving the community where it operates. Since inception, Isuzu customers have remained at the center of its actions. At the heart of Isuzu's commitment is safety and value, delivered through quality service and products.
Community
Today the world is much more aware of the need to conserve and protect the environment by using its resources responsibly and more importantly, replenishing what has been used and restoring what has been lost. Over the years, this has also been extended to service to humanity through supporting causes that lift others from situations of adversity and deprivation, providing opportunities for people to excel to their maximum capacity through health, wellness, and social support.
Isuzu EA, as the leading motor vehicle assembler in the region, has embraced community support initiatives that respond to societal needs.
During interactions with customers and other stakeholders over the years, the company has found opportunities to support the community around its operations to the benefit of society and the environment. Isuzu EA's Corporate Social Responsibility (CSR) program continues to support the wellbeing of communities through various initiatives spanning Healthcare, Road safety, Education, and Environment.
Conservation
Conservation of the environment has been a top priority globally with major focus on forests which support the earth's ecosystem. In response to the need to increase Kenya's forest cover from the current 7.4 per cent to 10 per cent by 2030, Isuzu has contributed 3,300 seedlings to the Muumandu forest in Machakos which have been jointly planted by Isuzu staff and the community forest associations.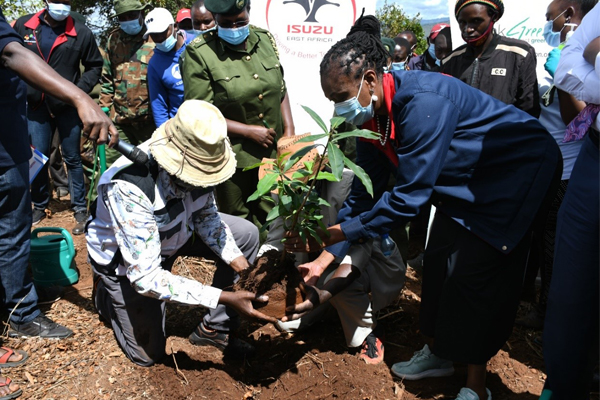 More than 1,000 seedlings have also been planted in Mua Hills and a community water project completed in Kyaani in Machakos County in 2019. In 2014, Isuzu EA adopted the bare 70 Ha for afforestation and launched a tree growing project to rehabilitate the hill within a period of 10 years. This was in collaboration with the Muumandu Kalimanzalu Community Forest Association (CFA) and the Kenya Forest Service (KFS).
Education
Access to education continues to be a challenge especially to rural populations that are largely dependent on meagre earnings from subsistence farming. Families living in urban areas who cannot make ends meet due to lack of employment and a reliable income have not been spared either. Isuzu has been extensively involved in the education sector through provision of buses for school transport and has come up with initiatives to give back to the community through education.
Since 2006, when Isuzu began the support through Palmhouse Foundation, over 60 students have benefited from this scholarship scheme with majority proceeding to local Colleges and Universities. In addition, the company has provided internship opportunities and full-time employment to some of these beneficiaries.
Over the years, a further Ksh 11.7million has been donated to Palmhouse to help meet its ambitious goal of establishing a Ksh 100 million Education Endowment Fund. The Fund aims to finance secondary education of needy and deserving students from Kenya's 47 counties. Currently, the
Palmhouse Foundation has over 700 scholarship beneficiaries from all around Kenya. While commencing this initiative in 2017, Isuzu EA committed to donate Ksh1,000 from every vehicle it sold to the Fund until the Ksh 100 million is reached. The Fund now stands at Ksh 80 million and is on course to reach its target.
Ladies at Isuzu have set aside their own time to provide career guidance, social skills and academic motivation to the Embakasi girls since 2019. 205 girls have to date benefited from the program. Unfortunately, these programs were interrupted by restrictions brought about by the Covid-19 Pandemic but the employees look forward to re-engage once it is safe to do so. There is a similar program for the boy-child, by the men at Isuzu EA, dubbed MENTENDA.
Covid-19 interventions
The disruption caused by the outbreak of Covid-19 in 2020 has brought about challenges in public engagement, public transport and other forms of social interaction. Personal hygiene was singled out as the first line of defence against the SARS-CoV-2 Coronavirus, by way of frequent handwashing and use of alcohol sanitizers. Isuzu EA identified a shortage of handwashing facilities in public transport stations and highly populated and disadvantaged informal settlements.
To respond to the need, the company donated 16 1000 litre handwashing stations fully kitted with soap and water for use by the public. These were installed in Mukuru, Mathare, Kayole, Kibra, Mwiki, and Mlolongo. The beneficiaries are thousands of Kenyans comprising of traders, boda boda riders, PSV operators and commuters, living and operating in these densely populated areas. In addition, two buses were donated to the Ministry of Health to help transport frontline health workers.
This was closely followed by a Ksh 10million donation to the National Covid-19 Fund to support private sector efforts to fight the Covid-19 Pandemic.
Supporting sports
Sports is a potential source of employment and an avenue for social engagement and recreation. In support of sports development in Kenya, Isuzu EA took an interest in the national women's rugby team popularly known as the 'Lionesses' after they won the Africa Women's Sevens Cup
in 2018. The company proposed to reward them with a long-term and sustainable project to enable them establish themselves in life. The result was a two-year 'Lionesses Arise' CSR project sponsored by Isuzu EA and facilitated by the KCDF.
The goal of the project is to improve the livelihoods of the ladies through economic empowerment, and prepare them for life beyond their active sport career of rugby. Since 2019, when the project began, 29 ladies have undergone training and graduated in 2020 after completing the first phase on Life Skills. The second phase focused on business skills development and commenced this year. Isuzu EA is proud to have been associated with the women's rugby team that flew the Kenya flag at the recent Tokyo Olympics in July 2021.
Road safety
The transport sector in Kenya is key to sustenance of the economy and providing mobility to the population. Isuzu EA provides a wide range of motor vehicles: from the heavy commercial F-series trucks, the light commercial N-Series vehicles and the D-Max pickup in addition to school and public service vehicles. Isuzu is the leading local vehicle assembler with 45.4% of industry market share by end of 2020.
Early this year, Isuzu EA signed an MoU with the NTSA to develop information and communication video clips from the Highway Code for online dissemination to road users on safety, good behaviour and responsibility when on the roads. The videos will be available online and in driving training schools to support attitude change on road safety.
However, it is inevitable that accidents do happen due to human error or other extraneous circumstances leading to injury, damage to property and at times the tragic loss of life. To mitigate the impact, Isuzu EA supported the establishment of a pilot emergency response centre last year in Naivasha along the Nairobi – Nakuru highway next to the Delamare Centre.
Working with 'Nurse in Hand' a donor supported organization, Isuzu EA funded the construction of the Naivasha Centre as a base for a rapid response team of paramedics that can be deployed rapidly to a scene of an accident on motor bikes. The primary function of this rescue centre is to get to the accident scene faster and stabilize accident victims before onward transportation to hospitals via ambulances. The 'Nurse in Hand' team has trained paramedics on standby to help save lives and minimize the risk to casualties. Isuzu invested Ksh 3million to build the pilot response centre in Naivasha and digitally linked it to public service vehicles drivers and boda boda riders. Through a digitally enabled bracelet, the transport operators can send out an alert when an accident occurs in their vicinity. The system is capable of pin-pointing the exact location to guide the rescue teams.
Isuzu EA, as a 'Trusted Logistics Partner' for its customers, will continue to proactively engage the community through these diverse initiatives and cement its position as the number one vehicle assembler in the region, dominates and transforming lives as it dominates the roads with reliable and fuel-efficient vehicles.
Going by the performance of Isuzu East Africa, the lessons from her father have borne fruit. Today, Rita Kavashe is the managing director (MD) of the biggest auto assembler in Eastern and Central
Africa, with a market share of 44.5 percent, up from 15 per cent when Ms Kavashe took over as the MD of the then General Motors East Africa in 2010. Rita Kavashe holds a bachelor's degree
in Education from Moi University and Master's degree in Business Administration (MBA) from the University of Nairobi (UoN). She also attended the prestigious Harvard Business School leadership programme in 2013.
Due to her penchant of walking the talk in corporate governance and instilling ethics in the business she leads, Rita Kavashe is a much sought-after corporate honcho by numerous blue-chip companies, including those listed on the Nairobi Securities Exchange (NSE). Rita always adds value to boards she sits on and brings high voltage networks, diversity in gender and infuses the often much needed skill set due to her exposure, experience and board background.