#2
ABSA BANK
A REFLECTION OF PROGRESS ONE YEAR LATER
On 10th February this year, Absa Bank Kenya celebrated their one-year anniversary since launching operations in Kenya which included a successful rebrand from Barclays. There are plenty of positive things to talk about the "truly proud African bank'' now a well-established and vibrant brand in the Kenyan market and a leading and trusted financial institution.
Speaking during the one-year anniversary, Absa Bank Kenya Plc Managing Director Jeremy Awori laid the blueprint and focus for the bank – to become a truly customer obsessed and digitally enabled bank that stands out in the highly competitive banking industry, to spur business growth and better returns for all the stakeholders.
"At the core of our strategy is our customer-obsession approach that enables us to create a unique and differentiated banking experience for our current and potential customers. This year, Absa will be making significant investments in leading technologies and capabilities close to Kes1.6 billion in over 60 different technology projects – all of which are geared towards transforming our customer experience," Jeremy stated.
Absa has within the short span of time quickly moved to revitalize its propositions for customers who are increasingly looking for efficient and effective banking solutions. For instance, included in the banking solutions is the automation loan top-up process where customers will access their funds in just 15 minutes. Plans are also in place to roll-out of cash deposit machines, agency banking, and a fully-fledged online business banking platform. An exciting innovation that Absa released this year is the vertical Contactless Debit and Credit cards offering that provides on-the-go, secure, contactless payment options.
Supporting SMEs
An indispensable cog of Kenya's economic engine, SMEs play a big role in the growth and development of Kenya's business and social prosperity. Absa's focus is to empower business owners to start, run and grow their businesses profitably through personalised propositions and products. Absa has therefore increased investments into Wezesha Biashara proposition which offers unsecured loans of up to 10 million shillings to SME – the highest in the market. To strengthen the business continuity muscle, the bank provides cushions for SMEs through an LPO financing and invoice discounting of up to 50 million shillings among other benefits.
In yet another strategic move to empower SMEs, the pan African bank recently launched a new business account dubbed SHE, which is envisaged to impact over 1 million women-owned businesses over the next five years. Through the SHE accounts, women entrepreneurs have access to unsecured loans of up to 8 million shillings payable over six years, which offer the much-needed buffer to struggling businesses towards recovery from the adverse economic effects of the Covid-19 pandemic.
Absa has equally joined forces with institutions such as Kenya National Chamber of Commerce Industry (KNCCI) and International Trade Commission (ITC) to scale the impact of both its financial and non-financial interventions towards women entrepreneurs across the country. The goal is to help women entrepreneurs overcome barriers to investment and trade by leveraging their training programmes to develop local, regional and global networks, as well as gain more growth opportunities.
Promoting the Sustainability
Over the last one year, Absa has been on a journey to embed sustainability as a strategic business principle with the objective of creating incremental shared value for all its stakeholders, both in the way it does business and the services and products offered. As part of this journey, the bank marked several milestones among them the development of a Sustainability Strategy and Implementation Framework and the launch of its Sustainability Commitment Report in 2020. Through their Sustainability Commitments, Absa outlined 13 high level commitments that will guide their strategy over the short, medium and long term. These commitments are anchored on the Social, Environmental and Economic tenets of sustainable development.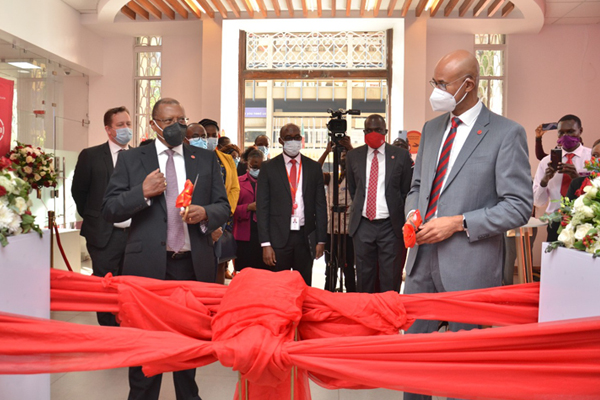 In 2019, Absa Bank became one of the Signatories of the Principles for Responsible Banking, committing to strategically align its business with the Sustainable Development Goals (SDGS) and the Paris Agreement on Climate Change (PACC). They also became a signatory of the United Nations Global Compact.
To this end, Absa, in partnership with the Ministry of Education, has commenced the handover of 4,000 school bags and 20,000 reusable masks to 46 special needs schools across the country. The bags, upcycled from used billboards in the transition to Absa, were repurposed from 300 tonnes of plastic waste. In addition, Absa collaborated with the Bombululu Association for the Physically Disabled of Kenya whose unique skills and artistry produced the face masks.
The bank has also refurbished over 3,000 computers, in partnership with Computer for Schools Kenya (CFSK), with plans to donate computers to 66 schools across the country this year. These donations will go hand in hand with planting of fruit trees as part of their commitment to plant 10 million trees in five years as well as supplement the pupils' diet.
Force for Good
One of the banks four strategic priorities is to become a force for good in the society. Absa believes that taking a proactive, responsible approach to make a real difference in communities is not only their responsibility but also the right thing to do. Over the years, the purpose led bank, guided by their purpose of bringing peoples possibilities to life, has gone to great lengths to minimise environmental harm, empower the youth, support local SMEs and drive inclusion of marginalised groups.
Standing in solidarity with people affected or infected by Covid-19, Absa is working together with various stakeholders to mitigate the effects of the virus since its outbreak, contributing more than Kes 50 million towards the Covid-19 Emergency Fund. Other relief initiatives and support offered to customers include a loan relief and loan repayment restructures valued at over 62 billion shillings – a third of their lending portfolio covering over 59,000 accounts.
Absa has also partnered with different organisations such as the Christian Mission Aid (CMA), AMREF and the Kitui County Government to provide food baskets and fruit tree seedlings to underprivileged communities as part of their contribution to a food secure and healthy nation in these uncertain times.
Under Education and Skills, key pillars of their Corporate Citizenship Strategy, Absa has provided scholarships to over 574 bright but needy students across 56 local universities in partnership with Higher Education Loans Board (HELB). In addition, the students were provided with a stipend for tuition, accommodation, upkeep and laptops.
To reduce the skills and knowledge gaps of the next generation, Absa is running the Ready to Work – an initiative that empowers young adults with the requisite soft skills necessary for smooth transition from universities and colleges into the job market; either as employees or employers.
In the past five years, this programme has reached more than 170,000 learners in Kenya with a goal to impact at least 1 million youth in the next three years.
Other ventures – AAML
In order to become a more diverse financial services business in Kenya that offers services beyond banking, Absa has launched its asset management arm– the Absa Asset Management Limited (AAML) which is licensed and regulated by the Capital Markets Authority (CMA) and the Retirement Benefits Authority (RBA). Through AAML, Absa offers investment management services and products to customers and institutions seeking to invest in assets with minimum risk.
About Absa
Absa Bank Kenya Plc is part of Absa Group, an African financial services group that aims to be the pride of the continent. Absa Group is listed on the JSE in South Africa and is one of Africa's largest diversified financial services groups with a presence in 12 countries across the continent and around 42, 000 employees. Absa is part of a truly African brand, inspired by the people Absa serves and determined to always be brave, passionate and ready so that the brand can make the African continent proud.
Absa is committed to finding local solutions to uniquely local challenges, with everything activity and product focused on adding value. To this end, Absa offers to clients a range of retail, business, corporate and investment, and wealth management solutions. Absa also ensure a positive social and environmental impact in all the countries where Absa operates.
Under the slogan, 'To bring your possibility to life' Absa believes in possibility, in the actions of people who always find a way to get things done. Absa therefore believes in creating opportunities for all the stakeholders, and to make their possibilities real and supporting them every step of the way. Absa Group is a future-focused organisation, driven by progress and a desire to thrive in the digital age.
Absa is aiming to play a shaping role in society and be an active force for good by:
Earning trust: By acting with fairness and providing just outcomes for all stakeholders and becoming known for reliability by delivering consistently on its promises
Shaping societies: By contributing significantly to the communities in which Absa operates, thereby enhancing the continent's economic growth and development
Promoting inter-generational sustainability: By being accountable for the brands impact on the environment and building viable communities by evolving as their needs change
Driving thought leadership: By providing insights that help the industry to develop new and innovative ways to solve society's challenges
Jeremy Awori is the incumbent Managing Director and Chief Executive Officer at Absa Bank Kenya Plc. A man synonymous with humility, Awori has established himself as one of the most reputable names in the finance and banking industry.