Kenya has become a Mecca for luxury brands. Attracted by 9,482 ultra-high net worth individuals (2018 figures) out of a population of 49 million people (people with over $30 million in net assets, excluding their primary residence) and thousands more budding millionaires, luxury brands are moving into Kenya in droves. While the country offers exciting prospects for the slew of luxury automobile, beverage and hotel brands setting shop, significant challenges still lie ahead. BUSINESS MONTHLY compiled this report.

The number of the HNWIs is projected to increase by 22 percent to 11,584 individuals over the next three years to 2023, a much faster growth compared to the 13 percent increase recorded since 2013 with 8,400 HNWIs. Out of the 9,482 HNWIs in 2018, 125 were ultra-high-net-worth individuals. Only four individuals crossed into this wealth bracket last year, with the number expected to jump to 155 UHNWIs by 2023, representing a 24 percent growth. Nairobi hosts most of the country's ultra-wealthy-net worth of at least Sh 3 billion-with 82 residing in the capital as of 2018 and this number is expected to rise to over 102 over the next five years, according to GlobalData WealthInsight's data.

The top sectors that generated wealth in the country last two years were financial services and investments at 17 percent of the total; technology and telecommunications at 15 percent; retail, fashion and luxury goods at 11 percent and media at 7 percent. Basic materials such as extractive industry that includes mining, oil and gas stood at 6 percent.
A new crop of globetrotting Kenyans who are flush with cash and filled with adventure is driving demand for globally acclaimed luxury brands. According to New World Wealth, an organization that provides information on the global wealth sector with a special focus on Africa and the Middle East, the Kenyan luxury goods market expanded by 80 percent between 2013 and 2019. The growth in the luxury goods market is further expected to be sustained by the growing number of millionaires the country's capital, Nairobi. The city under the sun, as Nairobi is popularly called, is among the fastest-growing African cities for millionaires, KPMG says.

"There are a lot of opportunities in the luxury market, more Kenyans are becoming brand oriented, more international companies are setting base in the country, the economic power for the middle class is growing," said luxury consultant, Maryanne Maina. The predominantly youthful population in Kenya is also expected to sustain the momentum in the luxury goods market. Fflur Roberts, head of Luxury at market intelligence firm, Euromonitor International, says that the typical African luxury consumer is significantly younger than the typical luxury consumer in mature markets such as Western Europe, where consumers tend to be in their 50s and 60s. "They (African luxury consumers) are in their late twenties or thirties so it's very much new wealth, and they will be looking towards luxury as a means of showing status and success," says Roberts. 2019 direct importation of luxury cars such as Porsches, Mercedes Benzes and BMWs are by far the clearest indication that a new crop of cash laden Kenyan consumers has emerged. Besides demand for luxury cars, more Kenyans now exhibit an inclination toward luxury beverages. Moët Hennessy Louis Vuitton (LVMH), the largest luxury group in the world, noted that Kenyans are increasingly looking towards single malt whiskies and champagne as luxurious alternatives to beer. LVMH's observations couldn't be any further from the truth. The Scotch Whiskey Association (SWA), which represents the industry in Scotland, released a report in November 2014 saying that scotch exports to Kenya in 2013 stood at £3.37 million (Sh462 million), a 62 percent increase from £2.08 million (Sh285 million) in 2012.
Any venture into Nairobi's vibrant nightlife scene reveals a city-wide love for Moet Hennessy's flagship spirit: Hennessy cognac. In the most exclusive drinking spots, reserved for politicians and C-Suite executives, the cognac is sipped neat during after-hours meetings, while in the more lively venues, young bankers and lawyers order a bottle for a table of friends and drink it on ice.
Thanks to the promising growth outlook, well-known luxury brands like Hennessy are establishing regional offices in Africa as they look to extend the reach of their products. It takes time to train local consumers, to tell them the story of the brand and the history. This is the value of being here, of being in the local market. For top alcohol brands, it takes up to 10 years to recruit a customer who will remain loyal to the brand. Brands often prove more compelling for consumers than origin countries- Hennessy, varieties of which can retail for more than $1000 in Nairobi's stores, is believed by many to be a British spirit despite French-Irish origins.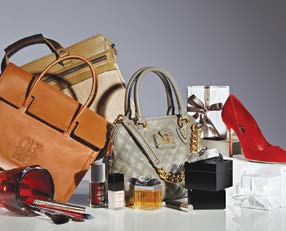 Local knowledge
It is interesting to note that luxury brands are using the same approach to enter not just the Kenyan market, but other luxury markets in Africa as well. Luxury brands tend to enter African markets through distributors, benefiting from local knowledge of their partners but still retaining a significant amount of control over how their name is marketed in that country. "Getting a new brand in a new market where they don't fully understand the operating environment would be very dangerous for that brand," says Euromonitor's Roberts. Zegna, a maker of luxury tailor-made Italian suits, sells to Kenyan consumers through Little Red, a Nairobi premier luxury designer clothing shop. Other luxury apparel brands that sell through Little Red include: Brioni, Isaia, Steffano Ricci, Salvatore Ferragamo and Giorgio Armani, signaling luxury brands' disposition toward local distributors.

Besides apparel, another sector where luxury brands have deeply involved local distributors is the automotive sector. As an example, luxury brands BMW, Jaguar and Land Rover distribute in Kenya through Inchcape Motors, a local dealership located at the Oracle tower on Chiromo Road. The use of local distributors who have extensive knowledge about the local market allows global luxury brands to remain well appraised with developments in the local market that they would otherwise have missed. Kenya's luxury car market is changing. Luxury SUVs have gained popularity in Kenya over luxury Sedans. "Luxury sedan car sales have actually been eroded," he said. "It's not cool to be seen in a Merc (Mercedes Sedan) any more, it's cool to be seen in an SUV. When one is seen behind the wheel of a Range Rover, nobody knows where and when one made his or her money, hence the appeal for the Range Rover luxury SUVs.

Global luxury spirits are also leveraging on local knowledge to penetrate the market. British multinational alcoholic beverages company, Diageo, is using East Africa Breweries Limited's (EABL) acute knowledge of the Kenyan consumer to expand the growth of its reserve brands, which represents the luxury division of Diageo. EABL, Diageo's Kenyan outfit, have partnered with its top distributors to distribute and run a luxury retail outlet at Yaya Center. The retail outlet, allows Diageo to channel its luxury brands such as John Walker & Sons Odyssey to consumers through EABL. "The new shop was in response to the changing taste of consumers with more people willing to try out luxury and high quality alcohol brands in line with rising spending power," remarked one of the EABL reserve brands commercial manager.
Diageo leverages on EABL's deep understanding of high-end customers in Kenya as well as its distribution networks on the ground to successfully sell luxury brands, signaling the importance of using local networks for luxury brands in Kenya and other African markets. There are a significant number of luxury hotels currently operating in the country, including the Kempinski Hotel chains which received three awards at the recently concluded continental World Luxury Hotel Awards Ceremony in Cape Town, South Africa. The insecurity and consequent travel advisories have, however, hurt occupancy rates for the country's luxury hotels. "In 2019 Nairobi hotels achieved an occupancy rate of 54 per cent, $145 average room rate and $80 Revenue Per Available Room (RevPAR). Falling occupancy rates due to security concerns and negative international travel advice led to a decline in RevPAR of 7.3 per cent in 2019." Interestingly, hoteliers remain unfazed in the face of the insecurity threat. There has been an uptick in high-end hotel construction activity in the country, suggesting an anticipated increase in demand for luxurious hospitality in the years ahead, with several high-end brands opening in the last couple of years.
Some of the latest major luxury hotels that have recently expanded in Kenya include Radisson Blue Hotel and Residence Nairobi Arboretum and Hilton Garden Inn.
Subscribe to our newsletter
Don't miss new updates on your email
Infrastructure gaps
In addition to insecurity, another factor that may affect the growth of luxury brands in Kenya is infrastructure gaps. This holds true not just for the Kenyan market, but for other luxury African markets such as Nigeria too. "It (the future of luxury in Africa) will rely on infrastructure and the operating environment such as security and how trading is done," said Euromonitor's Roberts. There is still an acute shortage of distinctly high-end shopping districts in Africa outside of South Africa.

Centum Investments Group's Two Rivers project in Runda has recently plugged the gap in luxurious shopping malls in Kenya, in addition to the expansion at the Village Market and Sarit Centre Malls respectively. Two Rivers Mall houses brand giants such as French retailer, Carrefour, and South African hotel chain, City Lodge. Besides Two Rivers, another mall worth of note is the Garden City mall, which is located along the Thika Super Highway. Like Two Rivers, Garden City provided a prime location for luxury brands to stage an entry into the country. The prospect of rising GDP in Kenya suggests that in the long-term, more wealth will concentrate in major urban centers such as Nairobi. This will lead to an expansion in the Kenyan luxury goods market. "Anywhere there is a huge concentration of wealth, you will see luxury goods," said Stephen Blackshaw, a partner at Sidley Austin, a corporate law firm.